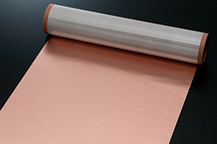 Good high-frequency properties make this material suitable for high-speed large-volume data transmission by mobile devices.
R-F705S may be used as a replacement of micro coaxial cable and millimeter-wave radar antenna.

Double-sided copper clad
R-F705S




・Avionics/
 Space
・Wireless
・Anntena
Avionics/Space applications, Smartphone (Antenna module), Laptop, Tablet PC, 4K/8K display (High-speed FPC cable), Automotive component (Millimeter-wave radar), etc.
Dk 2.9  Df 0.002
@14GHz
Water absorption
0.04%
Peel strength
0.8N/mm
Line-up
Supports thick plate specifications due to high board thickness accuracy.

Concept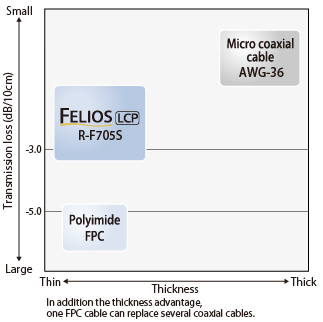 Frequency dependence by Transmission loss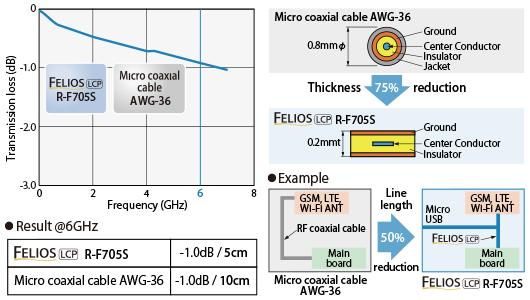 General properties
Item
Test method
Condition
Unit
R-F705S
Solder heat resistance
JIS C 6471
288°C solder float for 1min
–
No abnormality
Moisture absorption
solder heat resistance
Internal Method
C-96/40/90
260°C solder float for 1min
–
No abnormality
Dielectric constant (Dk)
14GHz
Balanced-type
circular disk
resonace
A
–
2.9
Dissipation factor (Df)
0.002
Dielectric constant (Dk)
10GHz
Cavity
resonance
A
–
3.3
Dissipation factor (Df)
0.002
Tensile modulus
ASTM D882
A
GPa
3.5
Surface resistivity
JIS C 6471
A
MΩ
4.0×1010
Water absorption
Internal Method
25°C 50h immersion
%
0.04
Peel strength
ED:18μm
IPC-TM-650
2.4.8
A
N/mm
0.8
260℃ solder float for 5sec
Chemical resistance
JIS C 6471
HCl 2mol/l 23°C 5min
–
No abnormality
NaOH 2mol/l 23°C 5min
IPA 23°C 5min
Dimensional stability
IPC-TM-650
2.2.4
After etching MD
%
0.008
After etching TD
0.007
After E-0.5/150 MD
0.052
After E-0.5/150 TD
0.035
Flammability
UL
A + E-168/70
–
94VTM-0
 
ED (TP4S) 18-100-18
The sample thickness is 0.1mm.
Our Halogen-free materials are based on JPCA-ES-01-2003 standard and others.
Contain; Chlorine:≤0.09wt%(900ppm), Bromine:≤0.09wt%(900ppm),
Chlorine+Bromine:≤0.15wt%(1500ppm)
The above data are typical values and not guaranteed values.
Related information