Panasonic offers a device library for circuit simulators that help design circuits more efficiently.
[Note on downloading]
The specifications of listed products may be subject to change or the supply of listed products may stop without notice. Please check the product availability before using the device library.
Product Lists
(*1) Some product are not published
(*2) Static detail model and dynamic voltage current model (LTSPICE, PSPICE) are published.
Measurement Criteria
-Using an evaluation board, as shown below, measure the S-parameters with a network analyzer (Keysight 8510 C, TRL revision). *
-Using a circuit simulator, de-embed the difference of gap g according to the size of the device being measured.
-Extract an equivalent circuit according to the results of the preceding process.
*Depending on the element value and the frequency range, impedance analyzers and other measurement instruments were also used in this process.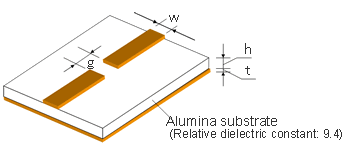 | Size of measured object | Substrate thickness : h | Line width : w | Conductor thickness : t | Gap : g |
| --- | --- | --- | --- | --- |
| 0603 | 0.635mm | 0.62mm | 15µm | 0.30mm |
| 1005 | 0.635mm | 0.62mm | 15µm | 0.55mm |
| 1608 | 0.635mm | 0.62mm | 15µm | 0.90mm |