Circuit board materials which provide customers with appropriate solutions for a wide range of heat dissipation applications.

Inorganic resin circuit boards which realize an excellent processability and a design flexibility as well as an excellent cost performance.


Line-up of products of single/double-sided copper clad type, flexible type, multi-layered type, seat type.

Circuit board material thermal characteristics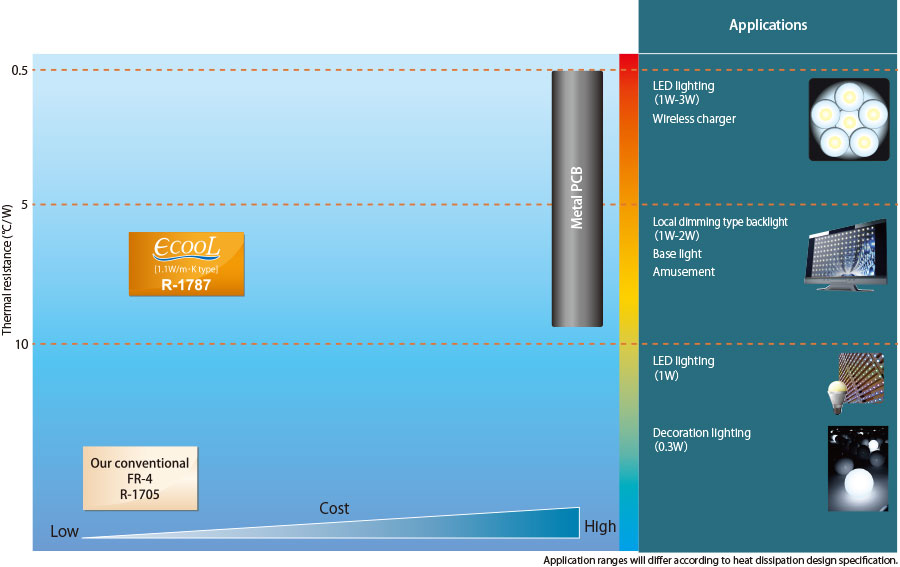 General properties
Item
Unit
ECOOL
     R-1586(H)     
        ECOOL        
R-1787
Our conventional
FR-4
R-1705
UL/ANSI grade
―
CEM-3
CEM-3
FR-4.0
Dielectric layer thickness
mm
1.0
1.0
1.0
Thermal conductivity*1
W/m・K
1.5
1.1
0.4
Thermal resistance
℃/W
5.0
6.7
17.5
Condition : As received
*1 Laser flash method
The above data are typical values and not guaranteed values.
Related information