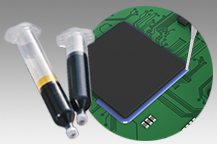 Inhibiting solder joint failure and improving assembly-level reliability for automotive quality by temperature resistance and low CTE.
With a pot life of 72 hours under ambient conditions, offering improved handling performance which means higher productivity during surface mount assembly.
Improving the reliability of large surface mount package, as well as BGAs larger than 25 mm × 25 mm. Also be used for Cornerbond and Edgebond.
Semiconductor Encapsulation Materials

CV5797 series


・Package
・Automotive
Surface mounting PKG: CSP, BGA, WLCSP, QFN, MLCC, Image sensor, etc.
For large size PKG
Glass transition temp. (Tg)
160°C
Pot life: 72h
Product Introduction Video
 Other video

ASYMTEK introduced the surface mount assembly reinforcement with a Jet Dispenser using Panasonic sidefill materials.
>>> Click to watch Sidefill Jetting video
Passing the temperature cycle test in harsh environments like automotive applications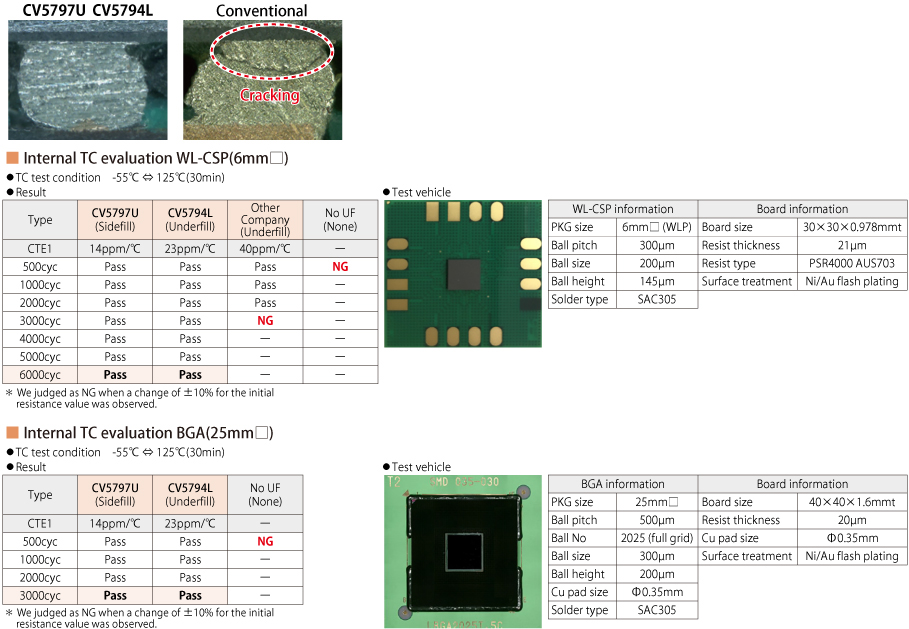 General properties
Item
Unit
CV5797U
Sidefill (Corner glue)
Glass transition temperature (Tg)
°C
160
CTE 1
ppm/°C
13
Elastic modulus (25°C)
GPa
20
Storage condition
-
-20°C / 6 months
Pot life
hours
72
The above data are typical values and not guaranteed values.
Related information