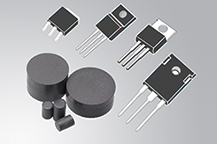 By adopting a new epoxy system, this material has excellent heat resistance and can be applied to the next generation power devices (SiC, GaN).
Contribute to improving power module performance and reliability under high temperature environment.
Semiconductor Encapsulation Materials/Adhesive

CV8540 series


・Package
・Automotive
Power devices used in industry/Automotive inverters
High heat resistance
Low warpage, Low stress
High insulation
Concept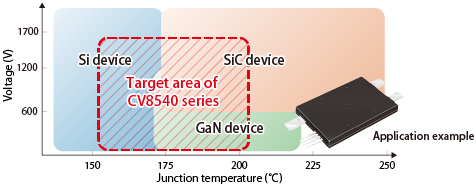 High heat resistance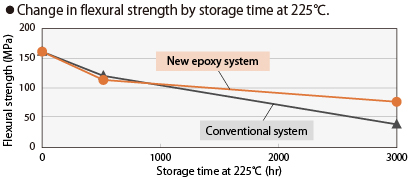 Dielectric property (Tg dependence)

General properties
Item
Unit
CV8540 series
Feature
-
Middle CTE & Low modulus type
Low CTE & Low modulus type
C.T.E. (α1/α2)
ppm/°C
14/65
11/60
Tg (TMA)
°C
210
210
Flexural strength (RT/260°C)
MPa
110/23
100/21
Flexural modulus (RT/260°C)
GPa
13/1.0
13/1.0
Cure condition
-
175°C/100-150sec
Post mold cure
-
175-200°C/4-8hr (200°C/4hr for above properties)
UL flammability
UL-94
V-0
V-0
The written property values are just an example of our product line-up. Please contact us for details.
Related information