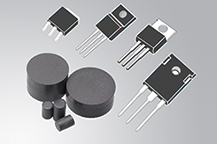 Excellent heat resistance and can correspond to the next generation power device (GaN, SiC).
Contribute to improvement of performance and reliability of power module under high temperature environment.
Semiconductor Encapsulation Materials/Adhesive


・Package
・Automotive
Power Devices used in Industry/Automotive Inverters
Low warpage, Low stress
High heat resistance
High volume resistivity
Concept/Line-up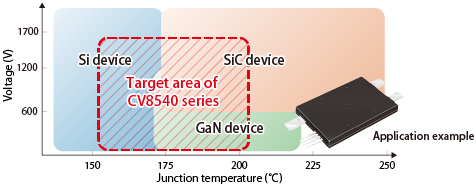 Evaluation of volume resistance (Tg dependence)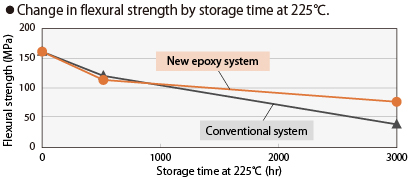 Dielectric property (Tg dependence)

General properties
Item
Unit
X8540-SPL1
X8540-SPL2
Target Package
-
For Module,TO247,etc. (with Cu L/F)
For Module (with Ceramic substrate)
Feature
-
Middle CTE & Low modulus
Low CTE & Low modulus
C.T.E. (α1/α2)
ppm/℃
10/46
8/36
Tg (TMA)
℃
210
210
Flexural modulus (RT/260℃)
GPa
13/1.0
13/1.0
Flexural strength (RT/260℃)
MPa
110/23
100/21
Cure condition
-
175℃/100-150sec
Post mold cure
-
175-200℃/4-8hr (200℃/4hr for above properties)
Nickel plating adhesion*
-
10
10
*Internal evaluation method: Shear adhesive strength to Ni plating
The above data is actual values and not guaranteed values.
Related information