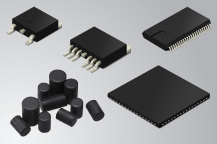 Achieved delamination free* with high adhesion strength and low stress property.
High heat resistance for automotive application(AEC-Q100/grade0)
Semiconductor Encapsulation Materials/Adhesive

CV8213 series


・Package
・Automotive
Surface mounting PKG: SOP, QFP, LQFP, DPAK, LFPAK, TOLL
Delamination free*
with high adhesion and low stress
Automotive quality
AEC-Q100/grade 0
Also used for Clip-Bond Package
of automotive application
Concept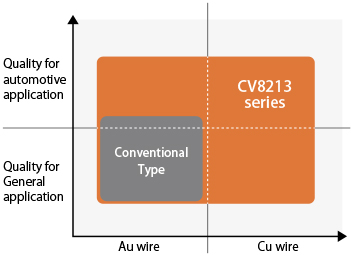 Delamination free* achieved by MRT(Moisture reflow test)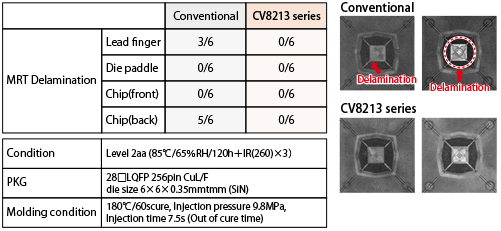 Delamination free* achieved at 1000 cycles of TCT(Thermal Cycle Test)

General properties
| | | |
| --- | --- | --- |
| Item  | Unit | CV8213 series |
| Tg | °C | 125 |
| C.T.E. (α1/α2) | ppm/°C | 10/46 |
| Flex. Modulus (260°C) | GPa | 0.4 |
| Moisture Absorption | % | 0.13 |
| pH | – | 7.0 |
The above data are typical values and not guaranteed values.
*Delamination free

1. Based on Panasonic's internal evaluation samples. No separation observed between the lead frame and the semiconductor encapsulation material were detected using on measurements made using SAT (Scanning Acoustic Tomography) Equipment.
2. Panasonic does not guarantee that no delaminated parts will be detected under any evaluation conditions.
3. With respect to delamination, the company recommends that all users evaluate the stability of parts and make a decision with respect to adoption.
Related information