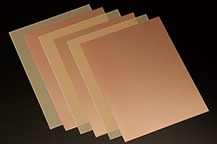 Suitable for high-speed large-volume data transmission of server and router at High-end/Volume zone.
Transmission loss performance Ranking in MEGTRON series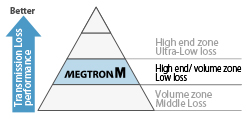 Frequency dependence by Transmission loss

Heat resistance of High Multi-layer

Solder heat resistance(float)

IST(Interconnect Stress Test)

General properties
Item
Test method
Condition
Unit
MEGTRON M
R-5735
Glass transition temp.(Tg)
DSC
A
°C
195
CTE z-axis
α1
IPC-TM-650 2.4.24
A
ppm/°C
31
α2
240
T288(with copper)
IPC-TM-650 2.4.24.1
A
min
35
Dielectric constant(Dk)
10GHz
IPC-TM-650 2.5.5.5
C-24/23/50
-
3.9
Dissipation factor(Df)
0.007
Peel strength*
1oz(35μm)
IPC-TM-650 2.4.8
A
kN/m
1.2
The sample thickness is 0.8mm.
*RT Copper
The above data are typical values and not guaranteed values.
Related information