Panasonic Low Transmission Loss Multi-layer Circuit Board Materials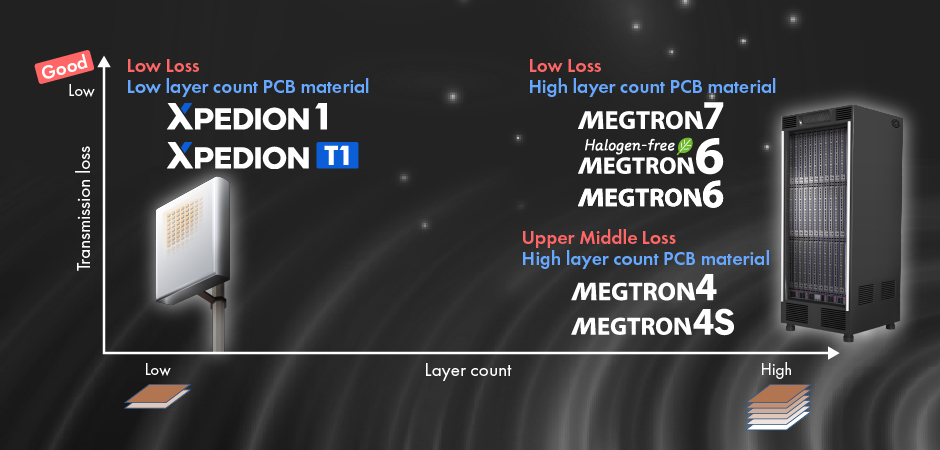 Product

Features

Dk

Df

Test method

XPEDION
Series

XPEDION1

Easy handling at PCB process
Possible to multilayered of Antenna
3.0
0.002
10GHz
Cavity resonance
XPEDION T1
High thermal conductivity
Stability under high temperature storage
3.6
0.005
MEGTRON
Series

MEGTRON7

Ultra low loss
High layer count
3.4
0.002
12GHz
balanced-type
circular disk resonator
Halogen-free
MEGTRON6
Halogen-free type
Stability under high temperature storage
3.4
0.003
MEGTRON6
De facto standard material in industry
Stability under high temperature storage
3.4
0.004
MEGTRON4S
MEGTRON4
Highly heat resistant at Reflow process
Good transmission loss
3.8
0.007
10GHz
IPC-TM-650 2.5.5.5
Our Halogen-free materials are based on JPCA-ES-01-2003 standard and others.
Contain; Chlorine:≤0.09wt%(900ppm), Bromine:≤0.09wt%(900ppm),
Chlorine+Bromine:≤0.15wt%(1500ppm)
The above data are typical values and not guaranteed values.
5G Wireless Communications
Network Architecture
Governments and private industry are working together to develop 5th generation(5G) mobile communication systems by designing network architectures capable of delivering "enhanced Mobile Broadband" (eMBB), "Ultra Reliable Low Latency Communications" (URLLC) and "massive Machine Type Communications" (mMTC). While 4G systems use frequencies in the 700MHz to 3.5GHz range, 5G functions in higher frequency bands. 5G architecture employs macrocell base stations operating sub-6GHz bands (like 3.7 GHz and 4.5GHz) to cover wide areas in combination with smaller base stations running in the millimeter wave band to provide local coverage.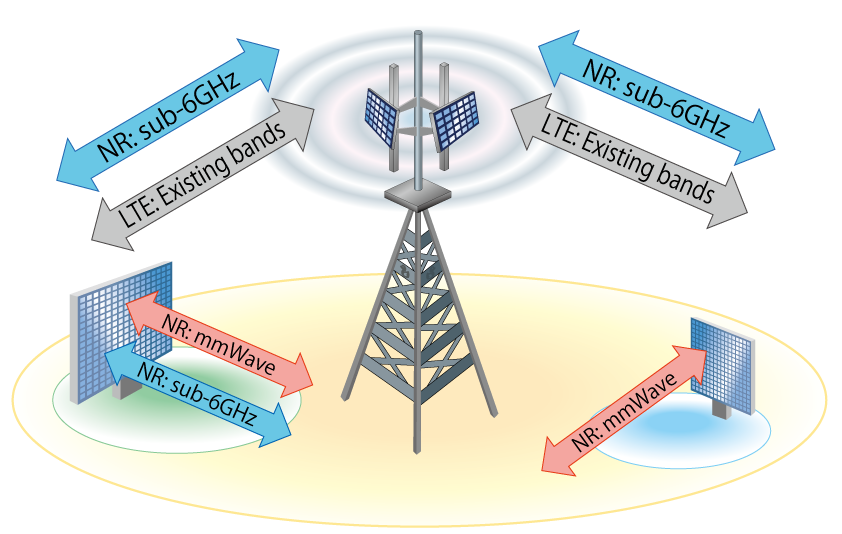 Massive MIMO Technology
4G base stations emit their radio waves in all directions while 5G base stations employ "Beamforming" technology which uses multi-element antennas to form sharply focused beams.
This architecture supports "Massive Multi-Input Multi-Output" (MIMO) which enables simultaneous communication with multiple devices and greatly expands network coverage capability.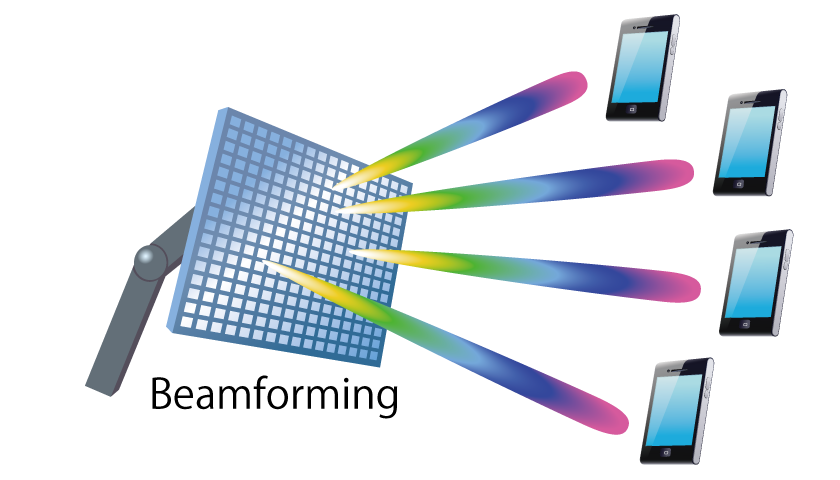 Multi-layer PCB Solutions
Because 5G uses higher frequencies, low transmission loss circuit board materials are required. Panasonic has created a suite of Multilayer Circuit Board Materials that enable high-speed, low transmission loss designs by combining innovative resin systems with low-roughness copper foil bonding technology.
Panasonic low-loss PCB materials also exhibit superior workability which supports the requirements of leading-edge super multi-element antennas. This is important because 'Multilayering" enables highly efficient integrated modules in which the antenna and the RF chip are on the same board.
To support product development, Panasonic has developed a unique modelling technology that can be applied for PCB materials up to 110GHz.

Panasonic introduces an innovative test methodology for accurately characterizing PCB materials for high-speed communication system designs.
User registration
Handling of personal information
While complying with laws and regulations related to the protection of personal information and other norms, Industry Company and Energy Company of Panasonic Corporation (hereinafter referred to as "the Company") is committed to properly handling, managing, and operating with the personal information provided by customers on this website as laid out below, in accordance with the Company's privacy policy, items for public disclosure, based on personal information protection laws, process of requesting disclosure of personal information, etc., and its cookie policy.
Business handling personal information
Industry Company, Panasonic Corporation
Energy Company, Panasonic Corporation
Person in charge of protecting and managing joint use of personal information
Director, Global Marketing & Sales Division
Industry Company, Panasonic Corporation
Purposes of use of personal information
The purposes of use of personal information acquired by the Company are set forth in "Items for public disclosure, based on personal information protection laws 2. Purposes of use of personal information"
Please see here for content.
About provision of personal information to third parties
In accordance with "Items for public disclosure, based on personal information protection laws 3. Provision of personal information", the Company may provide to third parties the personal information provided by customers to the extent necessary for achieving the aforementioned "Purposes of use of personal information" In such cases, in order to protect personal information, we will take measures required by law such as entering confidentiality agreements.
Please see here for content.
About joint use of personal information
In order to provide integrated services, and only where legally permitted and recognized as necessary to achieve the "Purposes of use of personal information" above, the Company may share personal information provided by its customers for joint use by companies that are subject to the consolidated financial statements of Panasonic Corporation (consolidated subsidiaries and equity method affiliated companies) and its various agencies.

Companies affiliated with Panasonic Corporation
Items of personal information in joint use
Family name, email address, company name, department name, position, phone number, mobile phone number, fax number, country/region, postal code, address, industry type, job type, email magazine registration information, purchased product registration information, details of inquiries, and status of use of this website.
Requests for disclosure, amendment, or suspension of use of personal information held
For details on requests for personal information held by the company, please check "Process of requesting disclosure of personal information, etc."
Other matters to confirm
These guidelines on handling of personal information are subject to change as necessary. In such cases, this enters into effect upon posting on our website.
For inquiries
Customer support desk, Industry Company, Panasonic Corporation
| | |
| --- | --- |
| Postal code | 571-8506 |
| Address | 1006 Kadoma, Kadoma City, Osaka, Japan |
Contact us