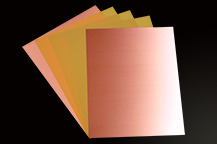 Excellent low warpage at large-sized package by low CTE property.
Good for high performance computing application.

Low CTE glass cloth
Laminate
R-G535S
Normal glass cloth
Laminate
R-G535E


・Package
IC substrate(FC-BGA)
New branding announcement
Panasonic Electronic Materials Division launches a new product brand for the Semiconductor Device Materials business.
The LEXCM brand now comprises all of the Semiconductor Device Materials; IC packaging materials (which includes substrates, encapsulants and underfills) and electronic assembly materials.
Additionally, the IC substrate materials' brand is transitioning from MEGTRON GX to LEXCM GX.
CTE x, y-axis
4-6ppm/°C
Low Package Warpage
(FC-BGA)
Good MTH Processability
(Mechanical Through Hole)
IC Package Warpage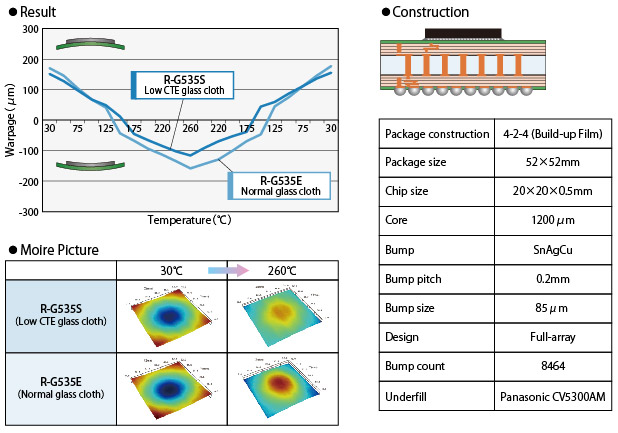 Mechanical drilling processability

General properties
Item
Test method
Condition
Unit
LEXCM GX
R-G535S
Low CTE glass cloth
LEXCM GX
R-G535E
Normal glass cloth
Glass transition temp.(Tg)
DMA*
A
°C
250-260
250-260
CTE x-axis
α1
IPC-TM-650 2.4.41
A
ppm/°C
4-6
7-8
CTE y-axis
4-6
7-8
Dielectric constant(Dk)
1GHz
IPC-TM-650 2.5.5.9
C-24/23/50
–
4.4
4.6
Dissipation factor(Df)
0.015
0.015
Flexural modulus
JIS C 6481
20°C
GPa
32-34
28-30
The sample thickness is 0.8mm.
* 0.4mm Measurement in tensile mode
Our Halogen-free materials are based on JPCA-ES-01-2003 standard and others.
Contain; Chlorine:≤0.09wt%(900ppm), Bromine:≤0.09wt%(900ppm),
Chlorine+Bromine:≤0.15wt%(1500ppm)
The above data are typical values and not guaranteed values.
Related information