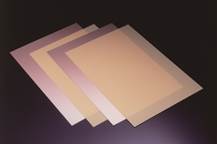 Low CTE reduces warping and addresses a critical challenge with the IC packaging process.
Flexibility and buffering features through a stress relaxation technology improves the reliability of the assembly process.
Offering excellent thickness tolerances.

Low CTE glass cloth
Laminate
R-1515V
Normal glass cloth
Laminate
R-1515K


・Package
IC substrate FC-BGA (CPU, GPU, FPGA, ASIC, etc.)
New branding announcement
Panasonic Electronic Materials Division launches a new product brand for the Semiconductor Device Materials business.
The LEXCM brand now comprises all of the Semiconductor Device Materials; IC packaging materials (which includes substrates, encapsulants and underfills) and electronic assembly materials.
Additionally, the IC substrate materials' brand is transitioning from MEGTRON GX to LEXCM GX.
CTE x, y-axis  3-5ppm/°C
(Low CTE glass cloth)
Stress Relaxation
Good Thickness Variation
IC Package Warpage

A wide range of Thickness Line-up

Designed to Improve Reliability

General properties
Item
Test method
Condition
Unit
R-1515V
Low CTE glass cloth
R-1515K
Normal glass cloth
Conventional
Normal glass cloth
Glass transition temp.(Tg)
DMA*2
A
°C
260
260
260
CTE x-axis
α1
TMA*2
A
ppm/°C
3-5
7
8-10
CTE y-axis
3-5
7
8-10
Dielectric constant(Dk)*1
1GHz
IPC-TM-650 2.5.5.9
C-24/23/50
–
4.4
4.6
4.8
Dissipation factor(Df)*1
0.016
0.015
0.015
Elastic modulus*1
IPC-TM-650 2.4.4*3
25°C
GPa
30
27
33
250°C
14
12
21
Peel strength
1/3oz(12µm)
IPC-TM-650 2.4.8
A
kN/m
0.6
0.6
0.9
The sample thickness is 100µm.
*1 700µm
*2 Measurement in tensile mode.
*3 The IPC standard determines the test sample size, methods and conditions, etc.
   but there is no formula for calculating the elastic modulus.
   Therefore, we quantified it according to JIS C 6481.
Our Halogen-free materials are based on JPCA-ES-01-2003 standard and others.
Contain; Chlorine:≤0.09wt%(900ppm), Bromine:≤0.09wt%(900ppm),
Chlorine+Bromine:≤0.15wt%(1500ppm)
The above data are typical values and not guaranteed values.
Related information