Zoom
If you have any questions, please check our FAQ page.
If your questions are not resolved, please contact us.
Hayabusa2
The asteroid explorer Hayabusa2 was launched on Dec. 3, 2014.
Panasonic BR series cylindrical lithium batteries have been equipped in Hayabusa2 because of the long life cycle, high reliability and safety.
Until the capsule of Hayabusa2 returned back to the earth on Dec.6, 2020, Panasonic BR series cylindrical lithium batteries supported various missions in a spacecraft.
How Panasonic batteries supported missions
1.Power for a Small Carry-on Impactor(SCI) to blast a crator on the asteroid

2.Power for a deployable camera to film the SCI explosion

Mission completed successfully in April, 2019 !

Mission completed successfully in April, 2019 !

3.Power for a flight-data instrument assisting with reentry

4.Power for a beacon for capsule retrieval when returning to the earth

Mission completed successfully in Dec., 2020 !

 

Mission completed successfully in Dec., 2020 !
Features
1. Wide product range
Panasonic offers a wide range of Lithium batteries which meet your requests such as main battery for small devices, backup battery for emergency, etc.
2. High quality based on many years of production
Over 40 years of technical development and manufacturing experience.
3. Excellent durability under severe conditions
Superior characteristics in a wide temperature range.
Long-term reliability suitable for outdoor devices (e.g. meters) which are difficult to maintain for a long time.
Market Sectors
Lithium Batteries are used in various industries. For example, the automotive industry which achieves safe driving, the infrastructure industry which supoprt  daily life, and IoT devices which use next generation network such as 5G/LPWA.

Applications
In the automotive industry, Lithium batteries are mainly used as backup battery for automotive electric components such as Remote Keyless Entry, TPMS and eCall.

In the infrastructure industry, the batteries are used as main or sub battery for device such as gas and water meters, AED and fire alarms. Some batteries are used as memory backup in manufacturing machines.

Outdoor machines, such as construction machinery, agricultural machinery and water level sensors are equipped with wireless network communications (e.g. LPWA). These machines are often used at the place where the battery replacement is difficult. Therefore, long-life batteries are used for these machines.

Lineup
Panasonic has a variety of batteries to meet your request, you can choose appropriate batteries according to the application.

About Tab Terminal Types
Panasonic has a variety of tab terminal shapes to meet your request.
Please note that it will be a customized solution if you need another tab terminal which is not shown on the website.
    Reference : 
    To find the tab terminal by tab shape ⇒ 

Line up of tab terminal types(by shape)
    To find the tab terminal by battery cell ⇒

Line up of tab terminal types(by cell)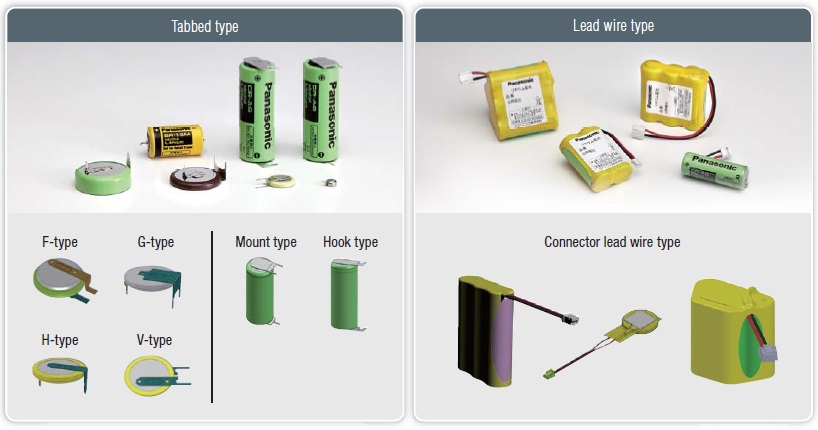 Download