Zoom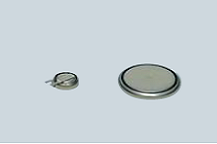 If you have any questions, please check our FAQ page.
If your questions are not resolved, please contact us.
Features
1. High reliability with years of development and manufacturing experience.
2. Achieves long life based on low self discharge rate and superior charge/discharge cycle characteristics.
3. Available for various small devices such as memory backup, RTC backup, keyless entry and watches.
Applications
Coin-type rechargeable lithium batteries are suitable for devices whose batteries are not replaceable or difficult to replace due to the device structure. The batteries are mainly used in solar watch, drive recorder, etc.

Lineup
Panasonic has a variety of batteries to meet your request, you can choose appropriate batteries according to the application.

About Tab Terminal Types
Panasonic has a variety of tab terminal shapes to meet your request.
Please note that it will be a customized solution if you need another tab terminal which is not shown on the website.
    Reference : 
    To find the tab terminal by tab shape ⇒ 

Line up of tab terminal types(by shape)
    To find the tab terminal by battery cell ⇒

Line up of tab terminal types(by cell)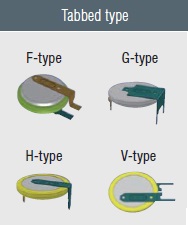 Download