High-thermal conductivity of 2.7 W/m・K* helps reduce the number of thermal management components. (* Measured with the laser flash method)
The excellent resin flowability enables multilayering of electronic circuit boards, contributing to the miniaturization of equipment.
Certified to meet the UL-specified rated temperature of 150℃ and can be used in high-temperature environment.



・Automotive
Multilayer circuit boards and component-embedded circuit boards used for core power supply components that require heat management measures (vehicle chargers, power supplies for railroads, power conditioners for photovoltaic power generation, inverters, step-up converters, etc.)
Thermal conductivity 2.7W/m·K
(Laser flash method)
Excellent resin flowability
RTI 150°C
Comparison of thermal conductivity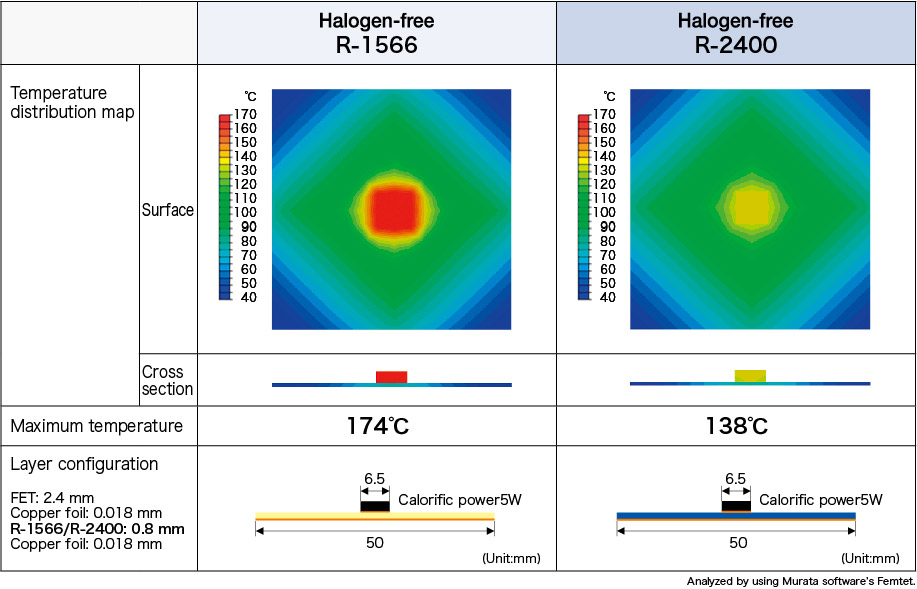 Superiority of R-2400
Miniaturization of circuit boards by multilayering (cross-sectional view)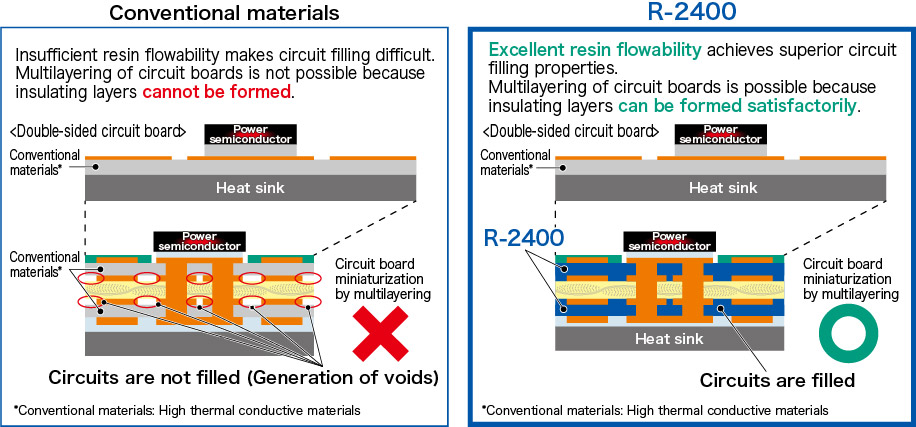 Example of Application and Copper pattern embedding

General properties
Item
Test method
Condition
Unit
  Halogen-free  
R-2400
Product line-up (Thickness)
–
–
μm
100, 150
Thermal conductivity
ASTM D5470
A
W/m·K
3.8
Laser flash
A
2.7
Glass transition temp.(Tg)
DMA
E-1/105
°C
200
Withstand voltage vertical to layer
ASTM D149
C-48/23/50
kV
6.5 (100um)
CLTE
IPC-TM-650 2.4.24
E-2/105
ppm
30 (40-260°C)
Tracking resistance
ASTM D3638
C-48/23/50
V
600 (PLC-0)
Rated temperature (RTI)
UL
–
°C
150
Flammability
UL
C-48/23/50
–
94V-0
The sample thickness is 0.8mm. Withstand voltage vertical to layer data is for a thickness of 0.1mm.
Tracking resistance, rated temperature and flammability are data for a combination of R-2400 0.1mm above and below a 0.38mm core material.
Our Halogen-free materials are based on JPCA-ES-01-2003 standard and others.
Contain; Chlorine:≤0.09wt%(900ppm), Bromine:≤0.09wt%(900ppm),
Chlorine+Bromine:≤0.15wt%(1500ppm)
The above data are typical values and not guaranteed values.
Related information