Felios adhesiveless flex materials are available in a wide-range of film and copper foil thicknesses to support all applications.
Felios offers superior thermal resistance, dimensional stability and quality.

Double-sided copper clad
R-F775
Single-sided copper clad
R-F770




・Avionics/
 Space
・Industry
・Automotive
Consumer mobile products (Smartphone, tablet PC), Medical, Industrial, Avionics/Space applications, In-vehicle cable(Wire harness alternative), etc.
Superior thermal resistance
MOT 160°C
Wide line-up of film thickness
0.5-6.0mils
Wide line-up of copper foil
thickness 2-150µm
Line-up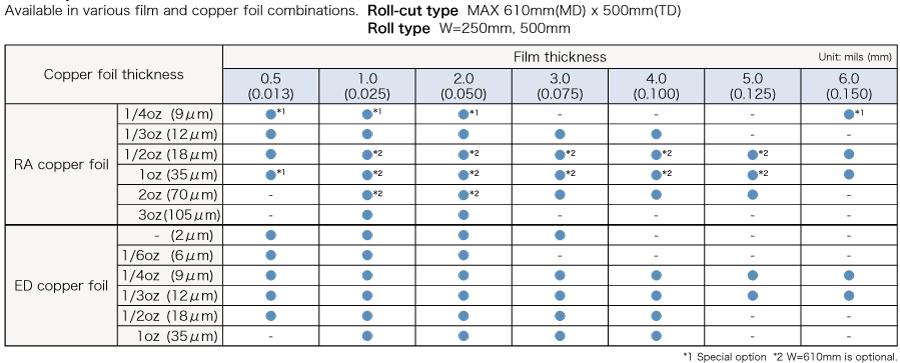 General properties
Item
Test method
Condition
Unit
R-F775
Solder heat resistance
JIS C6471
A
°C
>330
C-96/40/90
260
Dielectric constant(Dk)
1GHz
ASTM D150
A
-
3.2
Dissipation factor(Df)
0.003
Tensile Modulus
ASTM D882
A
GPa
7.1
Tensile strength
Internal method
A
MPa
542
Peel strength
RA: 1/3oz(12μm)
JIS C6471
A
N/mm
1.35
CTE
MD/TD
JIS R3251
50-200°C
ppm/°C
17 / 19
Z-axis
ppm/°C
101
Thermal conductivity
Laser flash
A
W/m・K
0.16
Dimensional stability
IPC-TM-650
After etching MD direction
%
0.00±0.10
After etching TD direction
0.00±0.10
Water absorption
IPC-TM-650
23°C 24h immersion
%
0.9
Flammability
UL
A + E-168/70
-
94V-0
Outgas
TML / CVCM / WVR*
ASTM E595-07
ASTM E595-15
-
%
0.62 / 0.05 / 0.55
The sample thickness is film 25μm, copper foil 12μm.
* TML: Total Mass Loss
 CVCM: Collected Volatile Condensable Material
 WVR: Water Vapor Recovered
Our Halogen-free materials are based on JPCA-ES-01-2003 standard and others.
Contain; Chlorine:≤0.09wt%(900ppm), Bromine:≤0.09wt%(900ppm),
Chlorine+Bromine:≤0.15wt%(1500ppm)
The above data are typical values and not guaranteed values.
Related information