Thermal resistance : 0.2 K∙cm2/W (600 kPa)
To draw a good thermal resistance from sheet, pressure the GraphiteTIM.
A close adherence would make the product fit into the uneven part and
enhance the performance.
Compressibility : 40% or more (600 kPa)
High and long term reliability : operating temperature range –55 to 400 ℃
Panasonic highly crystallized graphite, high reliability, easy installation,unprecedented thermal interface material
GraphiteTIM transfers heat generated from the power device to the heat sink with its excellent thermal interface material,
it is possible to extend the lifetime of the device and improve the work efficiency and contributing to total cost reduction.
*Note: Sound is included in this video
GraphiteTIM
What is PGS Graphite sheets(GraphiteTIM)?
A type of graphite made from Carbon, an artificial flexible graphite sheet developed by Panasonic ⇒Merit factors: light weight, high intensity, high stability, low environmental impact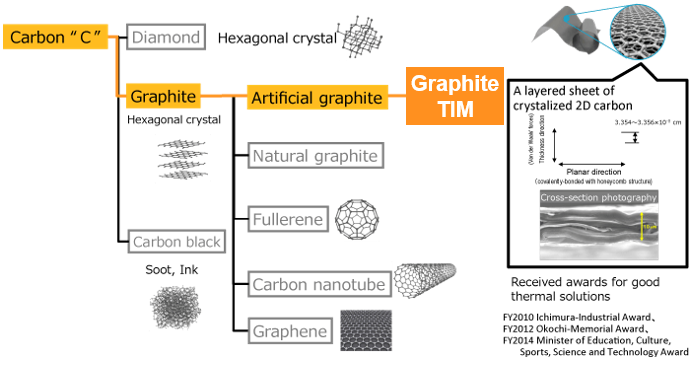 Basic functions of Thermal protection sheet
1. Heat transport
2. Thermal interface
How heat is transferred
GraphiteTIM reduces temperature rise
Use case
<Power IC>
<FET>
Features of GraphiteTIM
Feature
Low thermal resistance
High reliability
Easy to handle
Low thermal resistance

GraphiteTIM provides as good low thermal resistance as grease even though sheet material.

■Thermal resistance compared to grease with different thermal conductivity
 (Thickness of grease is 100 μm)

Measuring instrument: TIM Tester ( ANALYSIS TECH, ASTMD5470 compliant )

・Provide thermal resistance equivalent to grease.

High reliability

GraphiteTIM maintains high reliability for a long period compared to a grease because of its property of hardly changing thermal resistance.

■Negative impact on the reliability due to pump out phenomenon

Pump-out test Heat cycle ( -40⇔100℃ )
Material
Initial
120 times
Deterioration
(Thermal resistance)
Grease
Significantly deteriorated
GraphiteTIM
Slightly deteriorated

・Pump-out does not occur and characteristic does not deteriorate much.

Easy to handle

GraphiteTIM is easy to handle and control, such as inventory control, repair, and processing, since it is a sheet type product.

■All you need to do is fix with screws

・GraphiteTIM eliminates the need for an application process.
・Customization, such as hole making, and repair work are available.
Reference: Comparison with conventional PGS
●Thermal resistance comparison

●Power module

・High compressibility property helps to reduce contact thermal resistance due to better fitting to uneven surface
Recommended applications
For cooling/heat transfer of electronic devices that generates heat, such as power module.
Inverters and converters
Car-mounted camera, motor control unit, automotive LED, luminous source of laser HUD, medical equipment
Base station, Server
Other Thermal protection sheet lineup