Excellent thermal conductivity : 700 to 1000 W/(m·K)
(2 times as high as copper, 3 to 5 time as high as aluminum)

Lightweight: Specific gravity : 0.85 to 1.00 g/cm3
Flexible and easy to be cut or trimmed. (withstands repeated bending)

Low thermal resistance and RoHS compliant.
PGS protects electronic devices from heat through quick thermal diffusion.
■ Feature of PGS
Ultra-high thermal conductivity
Thin
Flexible
Combined products with PGS resolve various thermal issues.
Heat transport
Graphite
TIM


(Compressible Type)

GraphiteTIM is an artificial graphite sheet that is developed as TIM (Thermal Interface Material) .

For cooling/heat transfer
of electronic devices.

Heat transport

Graphite-PAD




(High thermal conductivity in Z-axis direction)

It is a highly thermally conductive interface material using oriented graphite powder.

General purpose and in-vehicle inverter
Base station application and others

Thermal absorption

SSM





Semi-Seeling Materia

Thermal-conductive sealing material that efficiently conducts heat to PGS.

Base station
digital still camera
PGS graphite sheet
What is PGS Graphite sheets?
A type of graphite made from Carbon, an artificial flexible graphite sheet developed by Panasonic ⇒Merit factors: light weight, high intensity, high stability, low environmental impact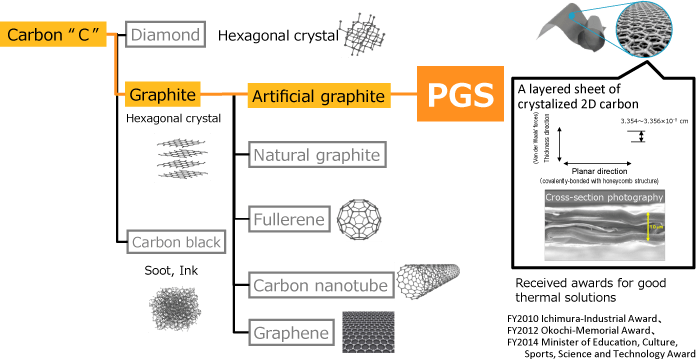 Features of PGS Graphite sheet
It is thin with high thermal conductivity:5 times of copper

heat control available while remaining thin /lightweight.

Flexibility:Easily-worked (could be tiny or complex shape)

More freedom in design than other sheet material like natural graphite or copper sheet

Shielding (electromagnetic wave):
Simultaneous solution for thermal and electromagnetic wave problem.

High stability (high grade carbon and high chemical stability):
Environmentally resistant, no deterioration with age.
High thermal conductivity and flexibility enable to control heat problem,
while remaining lightweight and compact.
Thermal solutions proposed by PGS graphite sheet
Product proposals

Counter all types of heat problems with its high thermal performance + with combination of multiple features.

Thermal Control Design Support

Optimized placement idea/product specification will be suggested from the heat simulation result.
Control heat just by sticking the sheet onto the product.
Appearance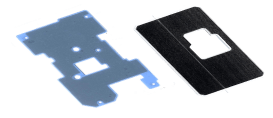 Just stick the sheet.
Structure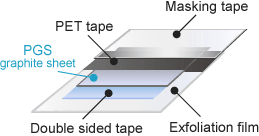 Film the product into the shape you like.

Prompt procedures for the resolution of your thermal problem
which will contribute the reduction of development lead time.
Thermal solution①:Suggested products
The basic function with which PGS graphite sheet conveys heat.
Gives high level of heat diffusion.
Case :
Smart phone surface temperature reduction.
Customer needs

Lower the surface temperature

Irregular color on LCD display Low temperature burn.

Lower the temperature of component parts.

PA, Sensor, etc.

Maximum usage of CPU performance
Resolutions

Thermal diffusion Heat insulation

Heat transport

Heat reduction
Let us hear about your concern related to the heat.
We will propose a suitable solution with our products.
Thermal solution②:Design support flow
STEP1 Contact

Let us hear about your case.

Target temperature
heating components,
and space for heat dissipating space.(thickness, area, and space) etc.

STEP2 Suggest

We will suggest several options for solution after conducting heat simulation.

STEP3 verification

With our reliable real machine evaluation, verify the effect.
Heat simulation and real machine evaluation will give you
the idea of most suitable product specification for your needs.