Panasonic Low Transmission Loss Multi-layer Circuit Board Materials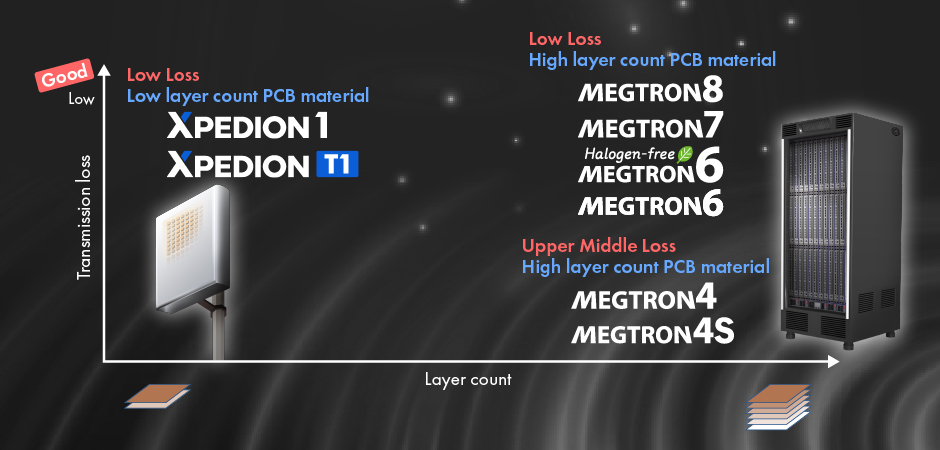 MEGTRON series Transmission loss performance Ranking

XPEDION series General properties
Item

Test method

Condition

Unit

 XPEDION1 
R-5515

Glass transition temp.(Tg)

DMA

A

°C

200

Thermal conductivity

Laser flash

A

W/m·K

0.35*¹

Dielectric constant(Dk)

14GHz

Balanced-type
circular disk resonator

C-24/23/50

-

3.06

Dissipation factor(Df)

0.002

Peel strength*²

1/2oz(18µm)

IPC-TM-650 2.4.8

A

kN/m

0.6
The sample thickness is 0.13mm. *1 The sample thickness is 0.5mm. *2 H-VLP2 Copper
Please contact us about the thickness specification.
Item

Test method

Condition

Unit

XPEDION T1
R-5575

Glass transition temp.(Tg)

DMA

A

°C

245

Thermal conductivity

Laser flash

A

W/m·K

0.6

Dielectric constant(Dk)

10GHz

  Cavity resonance  

C-24/23/50

-

3.6

Dissipation factor(Df)

0.005

Peel strength*

  1oz(35µm)  

IPC-TM-650 2.4.8

A

kN/m

0.8
The sample thickness is 0.5mm * RT Copper
Our Halogen-free materials are based on JPCA-ES-01-2003 standard and others.
Contain; Chlorine:≤0.09wt%(900ppm), Bromine:≤0.09wt%(900ppm),
Chlorine+Bromine:≤0.15wt%(1500ppm)
The above data are typical values and not guaranteed values.
5G Wireless Communications
Network Architecture
Governments and private industry are working together to develop 5th generation(5G) mobile communication systems by designing network architectures capable of delivering "enhanced Mobile Broadband" (eMBB), "Ultra Reliable Low Latency Communications" (URLLC) and "massive Machine Type Communications" (mMTC). While 4G systems use frequencies in the 700MHz to 3.5GHz range, 5G functions in higher frequency bands. 5G architecture employs macrocell base stations operating sub-6GHz bands (like 3.7 GHz and 4.5GHz) to cover wide areas in combination with smaller base stations running in the millimeter wave band to provide local coverage.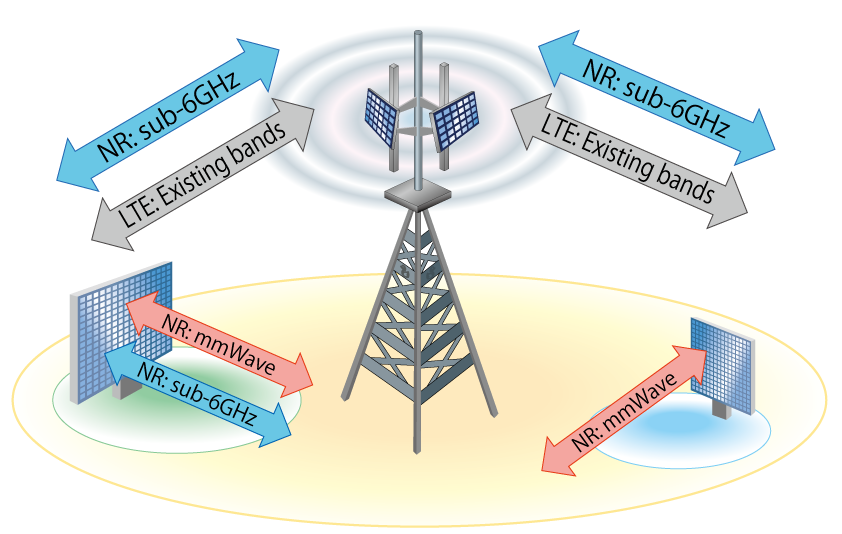 Massive MIMO Technology
4G base stations emit their radio waves in all directions while 5G base stations employ "Beamforming" technology which uses multi-element antennas to form sharply focused beams.
This architecture supports "Massive Multi-Input Multi-Output" (MIMO) which enables simultaneous communication with multiple devices and greatly expands network coverage capability.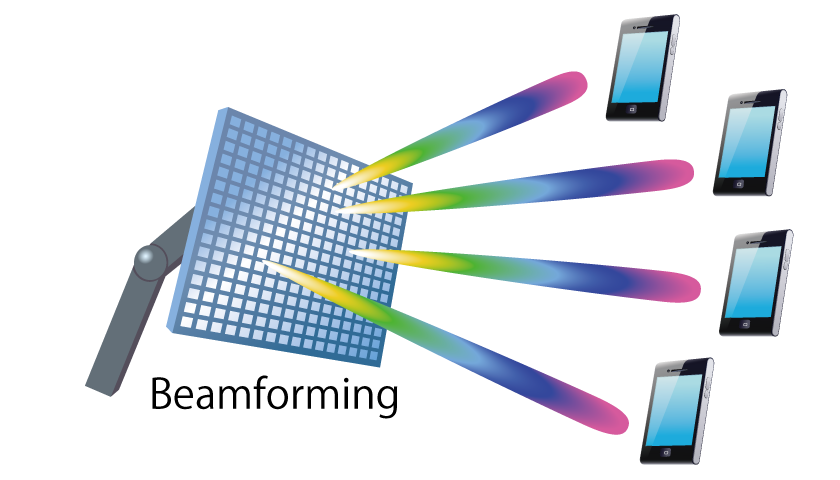 Multi-layer PCB Solutions
Because 5G uses higher frequencies, low transmission loss circuit board materials are required. Panasonic has created a suite of Multilayer Circuit Board Materials that enable high-speed, low transmission loss designs by combining innovative resin systems with low-roughness copper foil bonding technology.
Panasonic low-loss PCB materials also exhibit superior workability which supports the requirements of leading-edge super multi-element antennas. This is important because 'Multilayering" enables highly efficient integrated modules in which the antenna and the RF chip are on the same board.
To support product development, Panasonic has developed a unique modelling technology that can be applied for PCB materials up to 110GHz.