Surface Mount Device .(01005, 0201, 0402, 0603)

Wide lineup of resistance temp. coefficient (B value) and resistance values.

Highly reliable multilayer / monolithic structure /unique electrode design.(temperature operating range –40 to 125°C)

Characteristics of products
Our NTC Thermistors are top-level in the industry and possess following characteristics
They are surface-mount type products. They are available in a variety of B-values, resistance values and sizes ( 01005・0201・0402・0603 size ) .

Multilayer structure and our original external electrode forming technology enabled obtaining high-reliability.

We also have automotive components having great heat-resisting properties (up to 150°C)
About NTC Thermistors
NTC Thermistor is a ceramic element that changes its resistance value
as the ambient temperature change.
○ Appearance

○ Construction

○ Temperature characteristics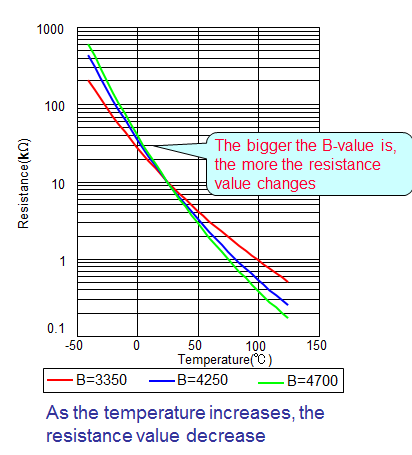 Elemental technology
We realized high-reliability by creating high-insulation layer, using our electrode forming technique!
Conventional technology
Panasonic
Because of not having high-insulation layer, it is easily

affected by external factors

: reflow soldering, surrounding environment and atmosphere.
The internal electrodes are protected by high-insulating layer, so it's

not easily affected by external factors

: reflow soldering, surrounding environment, and atmosphere.
〔An image of change in resistance value through the reflow soldering and reliability test〕

Panasonic's thermistor maintains temperature control in high precision for a long period.
Items of basic reliability tests
We can conduct additional tests to meet your special demands.
No.
Items
Testing methods
Perfomance
Evaluation items
Standard
High precision
In-vehicle
1
Shock resistance
Shock waveform: Semisinusoidal wave 11ms
Impact acceleration : 50G
Impact direction : X-X' ,Y-Y', Z-Z'(3 times for each direction)
Change rate of
Resistance
-
-
Within ±2%
Change rate of
B-value
-
-
Within ±1%
2
Temperature cycle
-40(in-vehicle:-55)±3°C(30±3min.)
→Room temp.(3min. max)
→125±3°C(30±3min.)
→Room temp.(3min. max)
*The operation prescribed above is one cycle, and repeat it for 100 times
(in-vehicle components: repeat 2000 times)
Change rate of
Resistance
Within ±3%
Within ±2%
Within ±2%
Change rate of
B-value
Within ±2%
Within ±1%
Within ±1%
3
Moisture resistance
Testing temperature: 85±2°C
Relative humidity: 85±5%
Testing time:1000+48/0 hours
(in-vehicle components :2000+48/0 hours)
Change rate of
Resistance
Within ±3%
Within ±3%
Within ±2%
Change rate of
B-value
Within ±2%
Within ±1%
Within ±1%
4
Damp heat load
Testing temperature: 85±2°C
Relative humidity: 85±5%
Power applying: 10mW
Testing time:1000+48/0 hours
(in-vehicle components: 2000+48/0 hours)
Change rate of
Resistance
Within ±3%
Within ±2%
Within ±2%
Change rate of
B-value
Within ±2%
Within ±1%
Within ±1%
5
Low
temperature storage
Testing temperature: -40±3°C
Testing time:1000+48/0 hours
(in-vehicle components: 2000+48/0 hours)
Change rate of
Resistance
Within ±3%
Within ±2%
Within ±2%
Change rate of
B-value
Within ±2%
Within ±1%
Within ±1%
6
High
temperature storage #1
Testing temperature: 85±3°C
Testing time: 1000+48/0 hours
Change rate of
Resistance
-
Within ±2%
-
Change rate of
B-value
-
Within ±1%
-
7
High
temperature storage #2
Testing temperature: 125±3°C
Testing time: 1000+48/0 hours
(in-vehicle component:2000+48/0 hours)
Change rate of
Resistance
Within ±3%
Within ±2%
Within ±2%
Change rate of
B-value
Within ±2%
Within ±1%
Within ±1%
8
High
temperature storage #3
Testing temperature: 150±3°C
Testing time: 1000+48/0 hours
Change rate of
Resistance
-
-
Within ±3%
Change rate of
B-value
-
-
Within ±2%
Application