◆ Capable of visualizing IAQ (indoor air quality、μg/m

3

)
◆Compared with the LED type, the laser type provides higher accuracy and stabilization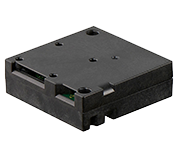 Overview
Laser type PM sensor product outline
Smaller size (37 x 37 x 12mm)
Better accuracy (±10%) from low to high concentrations(1,000μg/m

3

)
Longer life-time by optimizing electrical/SW control
Auto calibration function
Less dust-accumulation structure for minimizing electrical tracking
Application
For home appliance products and/or air quality monitors which need more accuracy & further advantages to the competitor's
Principal features of laser type sensor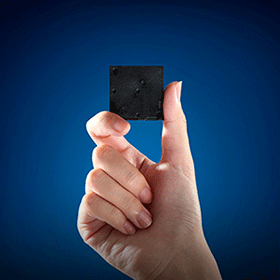 Compact-sizing of
37×37×12mm achieved
Compact-sizing achieved with a smaller optical system. Contributing to space-saving of equipment when loaded.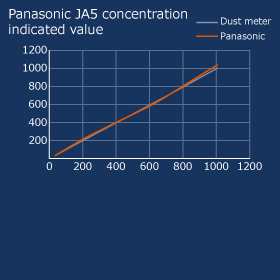 Measurement from low to high concentration (up to 1,000μg/m3) with ±10% accuracy.
High accuracy mass concentration value indication (μg/m
3
) by using a concentration analysis algorithm.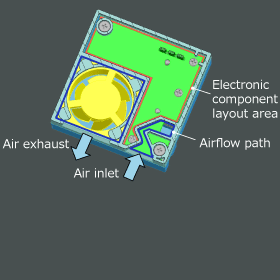 Suppression of sensor interior contamination by using a tracking prevention structure.
Securing product safety by avoiding airflow above the electronic components, and suppressing deterioration and sensing performance.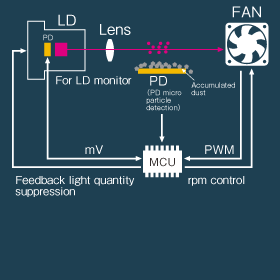 Monitoring electronic components and optimizing by electrical control
Continuous monitoring of each device condition for maintaining stable output, and process software-based correction at the required timing.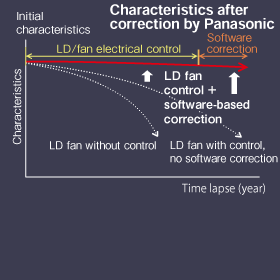 Longer life and maintaining accuracy until latter half of life
Performance deterioration during years of use is corrected by auto-calibration and avoiding changes of characteristics.
Laser type PM sensor specification
 
SN-GCJA5
Appearance
Type
Laser type
Detectable Objects & Accuracy
PM1.0
Measurable
PM2.5
35~1000μg/m

3

:±10%
PM10
±10%
Pollen
×
Concentration range
1~1000ug/m

3

Operating life (accuracy continuation period)
5 years
Size (width, depth, height)
37×37×12mm
Output format
UART&I2C
Operating power voltage
5.0V(±10%)
Consumption current
Below 100mA
Airflow control
DC fan motor
Maintenance (lens cleaning)
Not required
Related information
[Specifications]
Inquiries

Click here to make inquiries
Buy or Sample
Samples can be purchased from the link below.
| Sample | Digi-Key Electronics | Mouser Electronics |
| --- | --- | --- |
| Laser Type PM Sensor | | |
| Laser Type PM Sensor (with cable) | | |