Products lineup applied to various uses (low-voltage to high-voltage range, dry type / oil filed type etc.)
Custom design corresponding to customer needs
High safety by built-in fuse function
Film capacitors for electric equipment is used for the purpose of power factor improvement, such as AC motors and compressors.
The product specification (such as the method of mounting the capacitor) will be designed according to customer requirements.
Safety mechanism (fuse function) built-in, high safety and high long-life capacitor
PMF Series Product Introduction


AC Film capacitor for motor running
For motor and small compressor of home appliances for example air conditioners, refrigerators, washing machines, fan etc.
① High Safety ②Long life ③ Safety Standard approval ④ RoHS directive compliant ⑤ Flame retardant enclosure
Application ( Motor running circuit )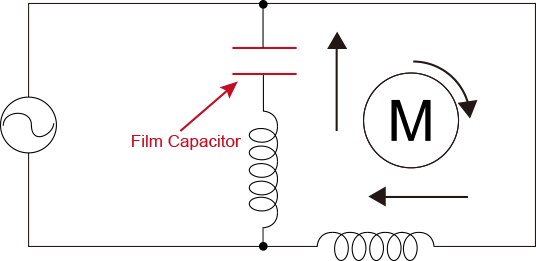 Wide rating range(volt. and cap.) & approval standard.
Corresponding to various mounting request(tab, bracket etc.).
<approval standard>
Nation
Approval standard
Japan
JIS C 4908 Capacitors for electrical apparatus
CMJ registration parts. Registration No.1475-C9902-026(JET)
UL/cUL
CSA
UL810 FILE No.E76560
CSA C22.2 No.190
Europe
EN60252-1 AC motor capacitors TUV
China
GB/T 3667.1 AC motor capacitors CQC
High safety & Long life by built-in fuse function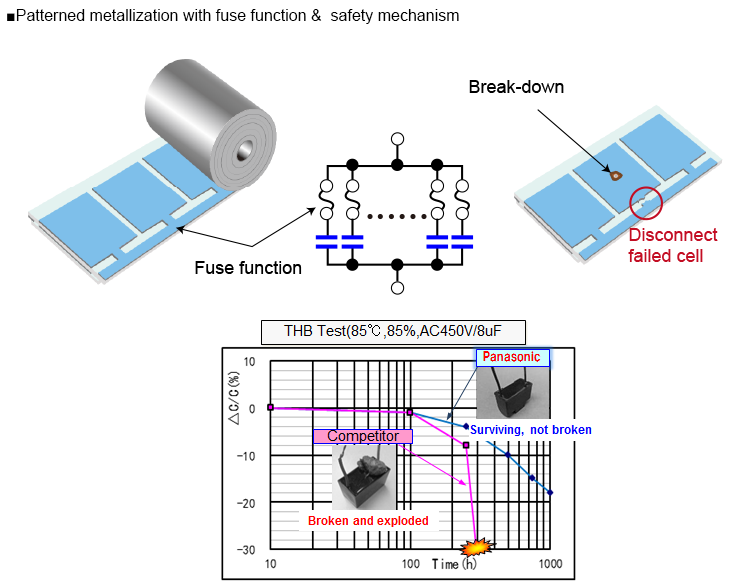 Dimensions/Shape
Main types are as below, for details please refer to catalog.
Q series (Mounting type)
Rated voltage (V AC)
Dimensions (mm)
250
450
Capacitance (μF)
A
C
E
F
3.0 to 4.5
1.0 to 1.4
39.5
16.2
27.0
27.0
5.0 to 6.0
1.5 to 1.8
39.5
18.3
29.0
29.0
6.5 to 9.5
1.9 to 2.5
39.5
22.0
32.5
32.5
10.0 to 16.0
3.0 to 5.0
49.7
24.0
34.5
34.5
16.5 to 20.0
5.5 to 6.5
50.0
26.7
37.5
38.0
20.5 to 25.0
7.0 to 8.0
50.0
30.5
41.0
41.5
25.5 to 34.5
8.5 to 10.5
50.0
34.0
45.0
45.0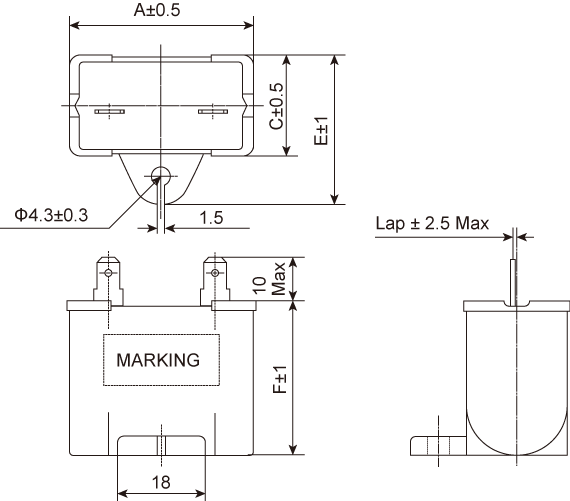 T series (for substrate mounting)
Rated voltage (V AC)
Dimensions (mm)
250
450
Capacitance (μF)
A
C
F
P
3.0 to 4.0
1.0 to 1.3
38.5
14.0
25.5
36.0
4.5 to 6.5
1.4 to 2.0
38.5
15.5
29.0
36.0
7.0 to 8.0
2.1 to 2.5
38.5
20.5
29.0
36.0
8.5 to 11.0
3.0 to 3.5
38.5
25.0
34.0
36.0
11.5 to 18.5
4.0 to 5.5
48.5
22.0
36.0
46.0