It is low capacitance less than 0.3pF, therefore most suitable for ESD measures of the super-high-speed signal.
Good ESD withstand.(Contact/air Discharge 15kV)
Single type 0201,0402,0603 & Array type 0805 Line-up.
What is the ESD suppressor?
ESD Suppressor is ESD protection device using gap discharge.
ESD suppressor protects Electric devices from ESD by utilizing the ability to decrease its resistance value rapidly when high voltage is applied to ESD Suppressor.
ESD Suppressor contributes to ensure the signal quality of High-speed serial data line and high frequency circuit in normal use (not applied high voltage).
Functions of ESD Suppressor

・Passing normal signal through to the protected element
・Protecting the element by flowing ESD current to GND

V-I characteristics of ESD Suppressor

When ESD suppressor is applied to high voltage,
current flows with voltage drop.
【Appearance】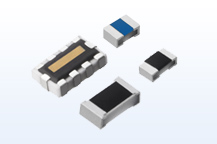 【Construction】

Example of ESD suppression effect
ESD test condition: IEC61000-4-2(150pF-330ohm), contact discharge 8kV


Features
Transmission characteristics ( USB3.0 Mask test )
ESD suppressor does not degrade Insertion loss of High-frequency circuit due to extremely low capacitance (below 0.05pF(0603,1005 size))
■single common mode noise filter
RX Eye

■single ESD Suppressor and single Common mode noise filter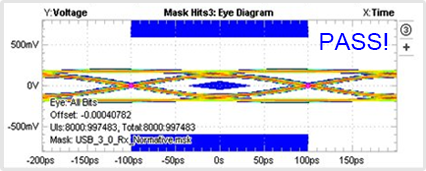 ■Common mode noise filters with ESD Suppressor (one chip)

Insertion loss ( S21 )
ESD suppressor does not affect signal quality of High-speed data line due to extremely low capacitance (below 0.05pF(0603,1005 size))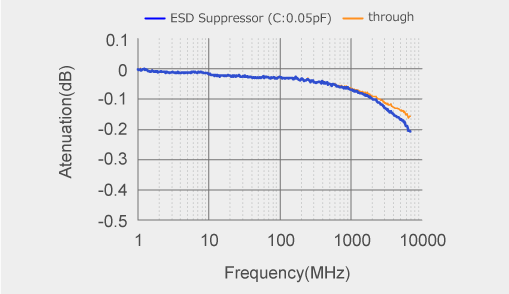 Unique technology realizing industry top level of ESD suppression characteristics

narrower gap (about 6micron) than competitor by uniquely developed process technology contributes
・Lower Peak voltage
・Working at lower voltage
② ESD suppression material
uniquely developed material (conductive particle- resin composite) contributes
・Lower Peak voltage
・Working at lower voltage
・Secure high insulation reliability after ESD discharging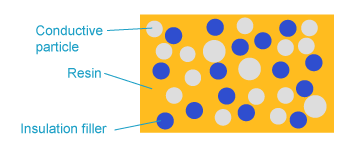 Application
① High-speed serial data line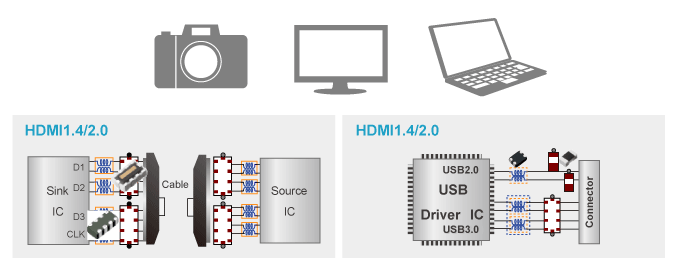 ② RF circuit (Antenna circuit)