Heat dissipation up by optimized resistance pattern, resistance material, and the electrode design enables downsizing and high power rating
Contribute to size and weight reduction of equipment
* Please read before use.
Feature
Heat dissipation up by optimized resistance pattern, resistance material, and the electrode design.
Achieve more than double power rating, anti-pulse, and anti-surge performance compare to standard chip resistors.
Anti-Surge Chip Resistor
Anti-Pulse Chip Resistor
Effect by use of small & high power chip resistor

Small and light weight of equipment
【Standard Resistor】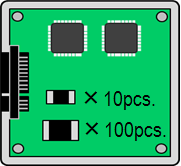 Smaller PCB area
【High Power type】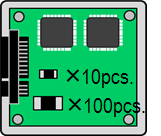 Application
High power chip resistors can be used in a wide range of applications.
Audio & Visual

Mobile & IT

Industrial & Security

Home Electronics

Automotive