This is a website where you can search for the product number of a Panasonic Micro Chip Fuse suitable for given service conditions.
Enter service conditions in the following spaces and click the search button.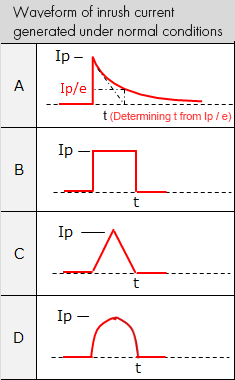 * Prerequisites: fusing time; 5 sec. or shorter, current-passing time (life); 100,000 hours, ambient temperature under service conditions; 70°C or lower
* Please contact us in the event that the waveform of inrush current generated under normal conditions is different from the above waveforms A to D.
* The ERBRG series (3216 type) is not listed on this website. Please contact us if you need data about this chip fuse.
* When you intend to use a products listed on this site, please check the product's latest information. Sufficiently evaluate the product and any system incorporating the product as well, and decide on whether or not to use the product based on your own judgment.
Applicable Panasonic Micro Chip Fuse
Judgment result of each part number
Part No.
Datasheet
Size
Rated current (A)
Rated voltage (V)
Internal resistance
(25℃ max.) (mΩ)
*Detailed determination results of all part numbers can be confirmed by clicking the tab.
Part No.
Product specifications
Judgment result
size
Rated voltage (V.DC)
Maximum breaking current (A)
Rated current(A)
Circuit voltage
Maximum current under abnormal conditions
Effective current under abnormal conditions
Effective current under normal conditions
Inrush current under normal conditions