To the top page of use case (SP-Cap, POSCAP, OS-CON)
Requirements for capacitor performance used in AC adapter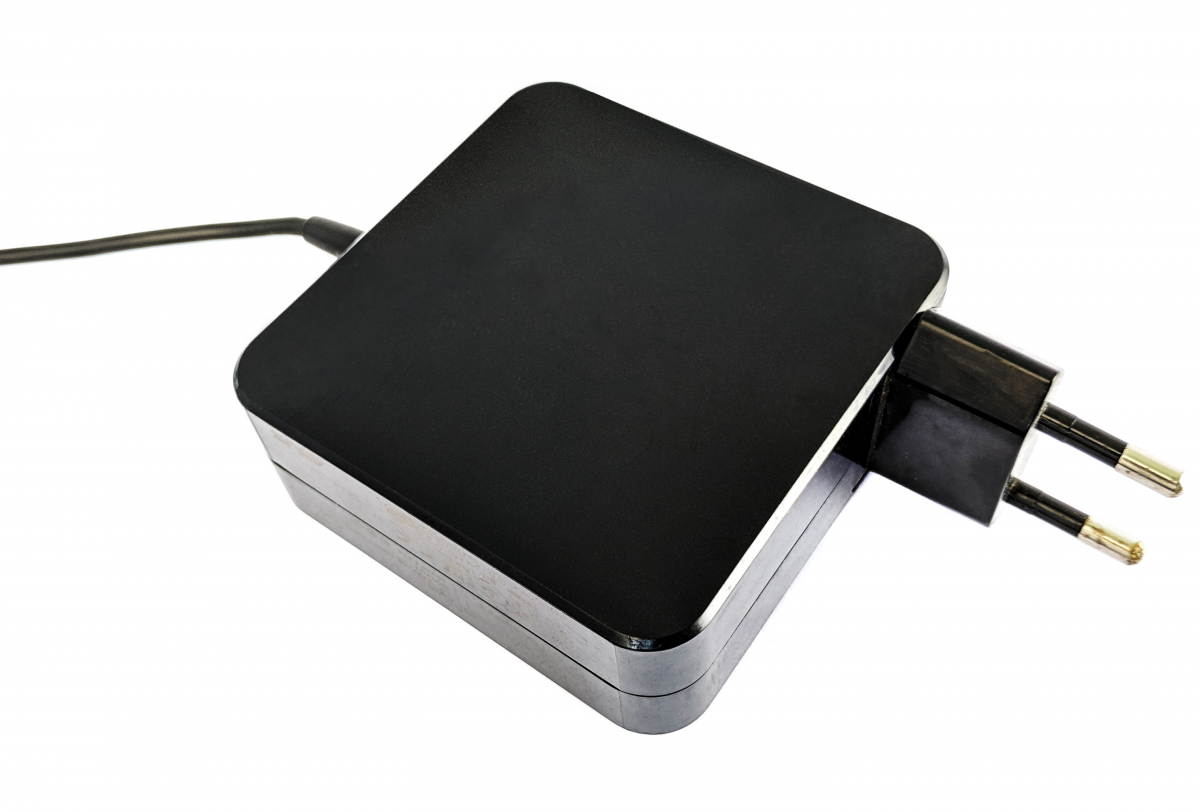 Trend of AC adapter
Slimming down
Compact size

Requirement for capacitor performance
Compact size
Low profile
High voltage resistance
Providing the optimized solution with a high to low voltage power source
Example)
12Vsystem

20Vsystem



By pressing the button for each circuit block, specific case is shown for reference.
Space saving
Quantity reduction
Case 1 - Replacement from polymer capacitor to OS-CON
Introduction of a replacement by using a low ESR capacitor OS-CON SVPG series capable of handling high ripple current.
Offered values
Reduction of quantity and approx. 1/2 the circuit area for handling equivalent ripple current
 
Before
After
 
Capacitor type



Mounted circuit area image

Previous product OS-CON
Radial lead type




Surface-mounting type



 
Area
-42%

Series, part number
-
SVPG series (SMD)
16SVPG330M
Specification
16 V, 270 µF, ø8 x 9 mm
16 V, 330 µF, ø6.3 x 10.4 mm
Quantity
3 pcs

2

pcs
Ripple current
15 A


5.0 A x 3 pcs

15

A


7.5 A x 2 pcs

Mounted circuit area
150.7 mm2

87.1

mm2
Features of OS-CON SVPG series SVPK series
The replacement case shown above uses SVPG series , but high voltage resistance SVPK series can also be used.
SVPG series
SVPK series
Rated voltage
16 V to 25 V
16 V to 50 V
Static capacitance
15 µF to 1,200 μF
10 µF to 1,200 μF
Features
Category temperature range
- 55℃ to +105℃
- 55℃ to +125℃
High ripple current

7.5A rms max.


(105 ℃/100 kHz) (16V)

5.4A

rms max.
(105 ℃/100 kHz) (16V, 20V)
High capacitance

1,200 μF max.

(16V)
Compact size
ø5 x 4.5 mm
ø5 x 5.9 mm
Low ESR
6.5 mΩ ~
12 mΩ ~
High voltage resistance
25 V max.
50 V max.
Datasheet Specification
/PN search
Datasheet Specification
/PN search
Space saving
Quantity reduction
Case 2 - Replacement from MLCC to POSCAP
Introduction of a replacement case by using compact and large capacitance low ESR capacitors, POSCAP TQC series
Offered values
Achieving quantity reduction with equivalent static capacitance, along with compact size and space saving
 
Before
After
 
Capacitor type



Mounted circuit area image
 
Ceramic capacitor (MLCC)



 




 
Area
-60%

Series, part number
-
TQC series (SMD)
25TQC22MYFB
Specification
35 V, 10 µF, 2.0 x 1.2 mm
25 V, 22 µF, 3.5 x 2.8 mm
Quantity
20 pcs

2

pcs
Total electrostatic capacitance
40 µF
10 μF x 20 pcs x 20% = 40μF
(Capacitance reduced by 20 VDC)
44 μF


(No Capacitance reduced by 20VDC)

Mounted circuit area
85.8 mm2

33

mm2
Data sheet
Specification/PN search
-

POSCAP


TQC
Series
Data sheet
Specification
/PN search
Features of POSCAP TQC series
Ultra-high voltage resistance :

35V max.

High ripple current :

1.8Arm

(105 ℃/100 kHz)
Compact size :

L3.5 x W2.8 mm

Low profile :

H1.15 mm

(L7.3mmxW4.3mm 16V)