The GB-L1CM1 Sensor provides gas flow and concentration sensing functions
It's unique ultrasonic design provides highly accurate gas measurements
including Hydrogen(H2)
The sensor proprietary design has 10 year proven history
Features
Having two gas sensing functionalities (flow and propagation time*) in one
Low pressure loss due to absence of obstructing objects within flow path
Because of its high sensitivity provides high measurement accuracy including Hydrogen gas
Low voltage input allows it to be battery operate
Sensor has an extremely small footprint which permit compact designs
*Need to calculate from output data for measuring concentration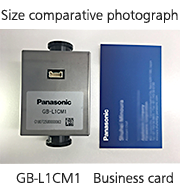 Applications
Ideal gas flow and concentration measurements for the following applications:
Medical equipment (ex: anesthesia machines , oxygen concentrators , etc )
Industrial equipment (ex: gas purifiers, etc )
Food and Pharmaceutical equipment (ex: packaging apparatus , etc )
Specifications
Item
GB-L1CM1
Remarks
Flow range
1.0 L/min to 25 L/min
-
Instrument error accuracy
±3.0% R.D
Air

(Characteristics

at 25°C)
Applicable gas
Air, oxygen, nitrogen, hydrogen, helium, carbon dioxide, nitrous oxide, argon, etc.
Please contact us for details.
Power supply voltage
3.0 to 5.0 V (Maximum 5.5 V)
Depends on the type of applied gas.
Current consumption
10mA
-
Output data
Flow, propagation time, temperature, mean molecular weight*
UART

communication,

* Optional
Operating

temperature/humidity

range
-10~+60℃ ,  0~95%RH
Freezing or condensation should not occur.
Maximum allowable pressure
500kPa
-
Pressure loss
150Pa
25L/min
Flow channel material
PPS
-
Outside dimensions/mass
W78 mm x H32.7 mm x D47 mm/72 g
-
Measurement performance
The data is for reference only and does not represent guaranteed performance.