High coupling efficiency, high tolerance thanks to the aspherical form. Flexible lens design is available.
High quality and high reliability can be achieved by the integrated molding method of a glass and a metal case.
Environmentally friendly RoHS compliant products.
Product Overview
CAN type

Barrel type

Without a barrel

Advantages of Aspherical Glass Lens 1
Spherical lenses cannot focus light properly. Need two spherical lenses to correct it.
While, an aspherical lens can focus light on a single point.


Advantages of Aspherical Glass Lens 2
Spherical lenses have low coupling efficiency and narrow optical axis.
Aspherical lenses have greater tolerance and easy to adjust with LD chips.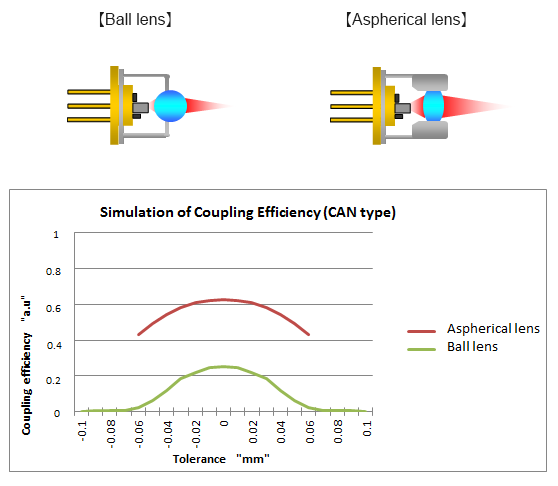 Applications
Optical communication network system

Optical communication network system
A pickup lens for optical disks

Optical sensor
Laser devices such as LD projectors

Laser projector
A collimation Lens for LBP

LBP
Element Technology
Industrial-top-class super high precision molding die processing technology for lenses
High precision molding technology that can achieve low aberration
Integrated molding technology of high hermitical barrel and a lens
Optical design technology , resistant to tolerance