Large withstanding surge current capability in compact sizes.
Lineup from general electronic equipment to industrial use.
Wide range of varistor voltages.
What is ZNR surge absorber?
"ZNR" stands for Zinc-Oxide Non-liner Resistor, the product name of a voltage-dependent resistor (registered trademark) developed by Panasonic (formerly Matsushita Electric Industrial) in 1968. This product is generally called a zinc oxide (ZnO) varistor or metal oxide varistor (MOV).

The ZNR has a voltage-current characteristics curve horizontally symmetrical with respect to the Y-axis with the curve rising as sharply as the curve of a Zener diode. With such characteristics, the ZNR absorbs harmful surge voltage instantaneously to protect electronic equipment from it. As a surge protection component, the ZNR is incorporated in office automation apparatuses, communication equipment, household appliances, and automobiles, etc., and is used for various applications, such as to protect transmission cables, in a wide range of fields.
Surge voltage absorption principle and its effects
Applying a surge voltage results in a surge current flow through a ZNR surge absorber,
which clamps down the surge voltage.
The ZNR has non-linear voltage-current characteristics. When a voltage higher than the varistor voltage of the ZNR is applied to the ZNR, a current flowing through the ZNR increases exponentially.
The ZNR exerts these characteristics when an abnormal voltage, such as a surge voltage, is applied thereto, allowing current to flow through the ZNR, thereby absorbing the surge voltage.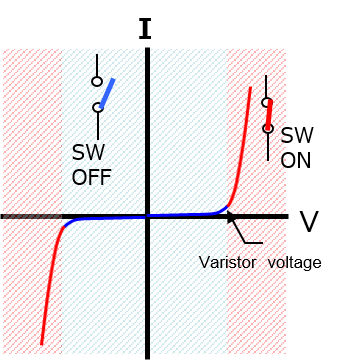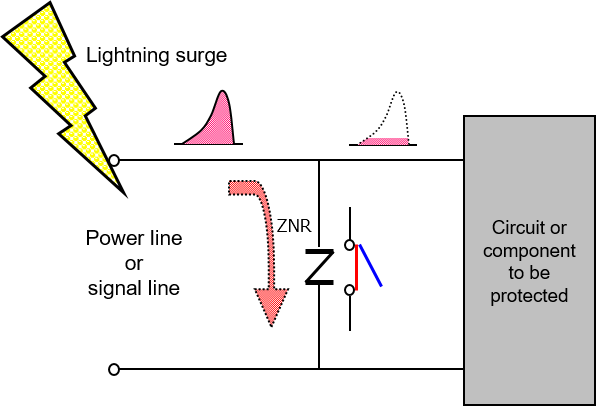 Range of fields in which the ZNR absorber is used ZNR