Achieves low ESR, high withstand voltage, and high reliability through the use of the "hybrid electrolyte" consisting of conductive polymer and electrolytic liquid.

Products with vibration-resistance specifications can also be produced (ø6.3 ≤).
What is Conductive-Polymer Hybrid Aluminum Electrolytic-Capacitor
Capacitor achieved both high performance and high reliability
Capacitor with the electrolyte fused with conductive polymer and electrolyte liquid
As features of both conductive polymer and electrolyte liquid, large ripple current(low Equivalent Series Resistance : ESR), low leakage current and high reliability contribute to downsizing and high reliability of the equipment
Suitable for automotive equipment and base stations which need compact and high reliability components.
Structure Diagram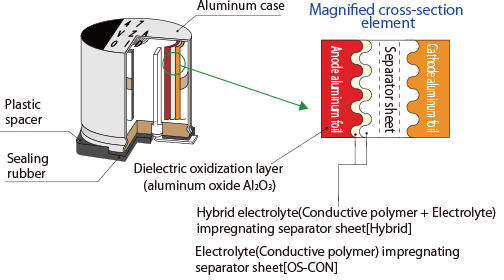 Comparisons with conventional capacitors
Classification
Aluminum electrolyte
Conductive solid
Hybrid
Electrolyte
Electrolyte liquid
Conductive-polymer
Conductive-polymer + Electrolyte liquid
Static capacitance
✓✓
Large
✓
Low
✓✓
Large
LC Leakage current
✓✓
Low
✓
High
✓✓
Low
Humidity resistance
✓✓
85°C 85%RH
✓
60°C 95%RH
✓✓
85°C 85%RH
Ripple current
✓
Low
✓✓
Large
✓✓
Large
ESR ( Equivalent Series Resistance )
✓
High
✓✓
Low
✓✓
Low
✓✓ : Very good      ✓ : Good
Characteristic comparison with aluminum electrolytic capacitors, replacement examples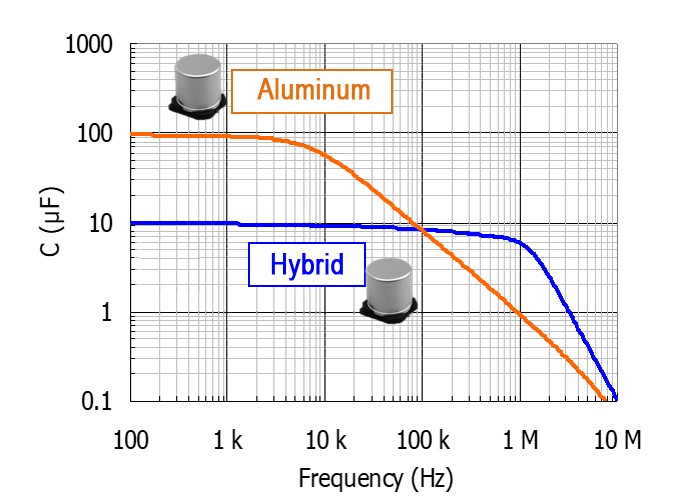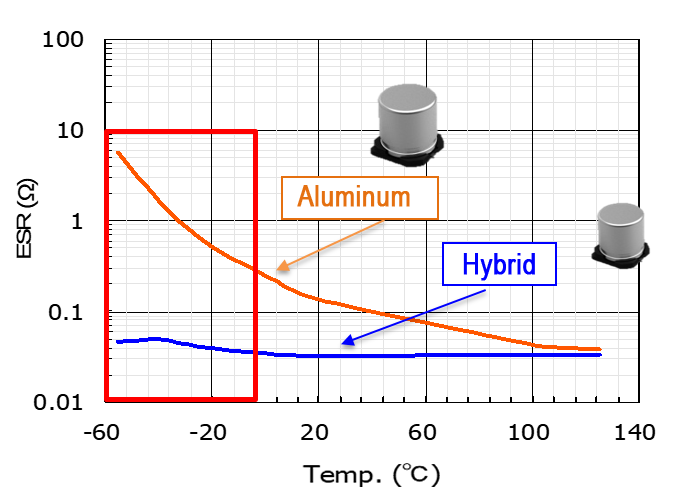 Replacement of aluminum electrolytic capacitors with hybrid capacitors
 
Aluminum electrolytic capacitor
35V 330μF
Size

ø10.0x10.2 mm
Capacitance(300kHz)
11 μF
ESR (300kHz)
47 mΩ
capacitance
1190 mA rms
Input voltage waveform to capacitor

frequency : 300 kHz
VIn: DC 12 V +600 mVp-p
28 mVp-p

Mounting area
100 % (132 mm2)

Hybrid capacitor
35V 47μF
ZC series



ø6.3x5.8 mm
23 μF
20 mΩ
1300 mA rms
23 mVp-p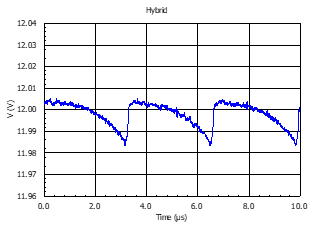 41 % (54 mm2)
In the high frequency band, a aluminum electrolytic capacitor with large capacitance can be replaced with the hybrid capacitor with small-sized and small-capacitance.
Characteristic comparison with ceramic capacitors (MLCC), replacement examples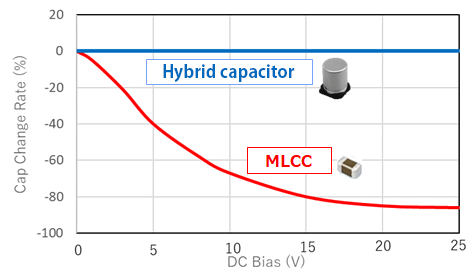 Replacement of MLCCs with hybrid capacitors
 
MLCC
 
Hybrid capacitor
Mounted circuit area imag
Series, part number
-
ZA Series EEHZA1E220R
specification
25 V, 22 µF, 3.2 x 1.6 mm
25 V, 22 µF, ø5 x 5.8 mm
Quantity
5 pcs
1 pc
Effective capacitance
22 µF
22 μF x 5 pcs x 20% = 22 μF
(Capacitance reduced by 15 VDC)
22 μF
(No Capacitance reduced by 15VDC)
Since the capacitance of MLCCs is reduced by applying voltage,
replacing MLCCs with hybrid capacitors can reduced quantities and space.
Related products