With the growing demand for eco-friendly cars, energy efficiency and the need to comply with environmental regulation, more ECUs are being employed in cars. Mechanical and electrical in-vehicle components are also becoming integrated [1]. This trend has created a need for more compact ECUs combined with better resistance to vibration. The capacitors employed to stabilize the voltage of a power circuit for the ECU and eliminate electronic noise are therefore increasingly required to be smaller in size and to show better anti-vibration performance. Panasonic has commercialized the surface-mounting conductive polymer hybrid aluminum electrolytic capacitor 6.3 mm in diameter and achieves resistivity of 30 G high vibration acceleration.
[1] Integration of mechanical and electrical components
This refers to the integration of mechanical drive components and the ECU. Mechanical drive components and the ECU used to be physically separated but were interconnected via cables. Demand for high-precision control, a higher degree of freedom in component layout, reduction in number of cables, etc., has led to the adoption of an integrated configuration of mechanical and electrical components.
Features of ø6.3 anti-vibration products
 (1) Anti-vibration capacitor achieving a 6.3 mm diameter that contributes to miniaturization of the ECU combined with effective resistance to vibration
The pressure to reduce the size, weight and number of power train-type ECUs mounted in cars has led to a change in their placement from the engine compartment to the engine itself. This has increased the need for the capacitors incorporated in ECUs of this type to be small, high-capacitance, and extremely anti-vibration. Currently, most capacitors with superior anti-vibration performance are 8 - 10 mm in diameter. The industry, however, needs a smaller type. Leveraging our own auxiliary terminal structure, Panasonic has commercialized anti-vibration capacitor with a diameter of 6.3 mm that withstands vibration acceleration of 30G. This new capacitor will contribute to miniaturization of the ECU and provide better overall resistance to vibration.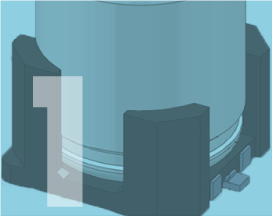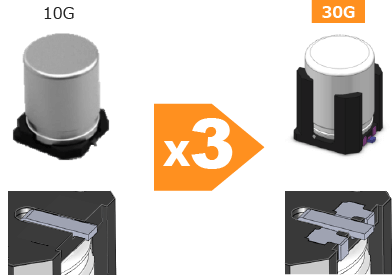 (2) The new capacitor removes the need for anti-vibration reinforcement as part of the board mounting process, allowing customers to streamline their production processes
The conventional ECU board mounting process requires anti-vibration measures, such as anchoring components with adhesives, to make the ECU resistant to vibration if using non-vibration-resistant components. The developed capacitor has achieved anti-vibration performance high enough to withstand a vibration acceleration of 30G, making such anti-vibration measures unnecessary, thus allowing customers to streamline their production processes.
Reduction of Potting and adhesive fixation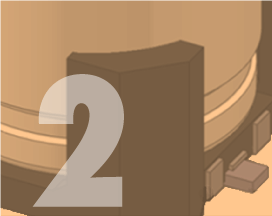 (3) The capacitor has Panasonic's unique auxiliary terminal structure that offers reliable soldering properties
This auxiliary terminal structure has auxiliary terminals positioned on the sides of the capacitor. This eases visual confirmation of auxiliary terminal soldering, ensures stable soldering properties, and enhances the ECU's overall vibration resistance.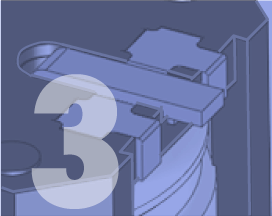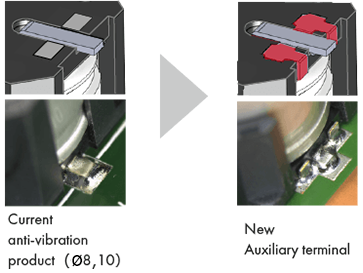 Spec
Vibration proof guarantee condition
Specifications
Products
Hybrid capacitors
ZA / ZC / ZK series
※E-Cap are also available
Case size
ø6.3x6.1mm (D size)
ø6.3x8.0mm (D8 size)
Vibration
condition
X,Y,Z
3axis
Each 2h
Vibration
Acceleration
30G
(294m/s2)
Frequency
5 to 2,000Hz
Amplitude
5 mm
Cap. change
Within±5% of initial measured value
Dimensions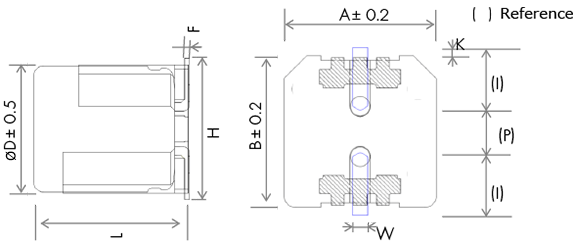 [Unit: mm]
| size | D | L | A, B | H | I | W | P | K |
| --- | --- | --- | --- | --- | --- | --- | --- | --- |
| ø6.3x6.1mm | 6.3 | 6.1±0.3 | 6.6 | 7.8 max. | 2.4 | 0.65±0.10 | 2.2 | 0.35+0.15/-0.20 |
| ø6.3x8.0mm | 6.3 | 8.0±0.3 | 6.6 | 7.8 max. | 2.4 | 0.65±0.10 | 2.2 | 0.35+0.15/-0.20 |
Recommended land Pattern dimensions
[Unit: mm]