Thermoelectric Cooling Roller (Discontinued products)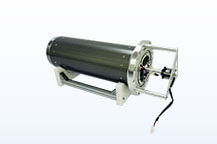 Thermoelectric cooling roller without using any water
Significant reduction of periodical maintenance time for cooling system
Significant reduction of start up time for cooling system by high response speed characteristic of thermoelectric device
What is Thermoelectric Cooling Roller
In a general way, commercial printing machine raise the temperature to about 100℃ by heater in order to dry the ink on the paper. Then they get down the temperature to about 25℃ (room temperature) in order to firm the printing quality. (When the printing is done on the heated paper with high temperature, inhomogeneous printing quality will occur. To avoid this problem, the cooling roller (water cooling system) is needed to get down the paper temperature to room temperature.
Subjects about current water-cooled system roller
Corrode (=malfunction) of inside parts by water leakage

Disposal for refrigerant water after the periodical maintenance
(= disposal by specific company)

*Refrigerant water contains the following material.
①antiseptic substance
②antifreeze liquid
⇒Disposal handling is very bother after exchange to new one.

Arranged pips are needed in accordance with number of roller
(=Securement of wide space)

Dew drop at start-up and shutoff makes poor printing quality / ripped paper.

⇒Dew drop comes out in about 15 minutes
on the current water cooling system.
Thermoelectric device cooling roller
The product equipped with thermoelectric device can quickly cool the printing paper without using any water.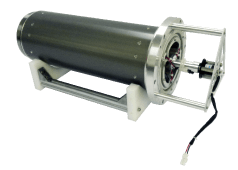 No corrode of inside parts by water leakage
Significant reduction of periodical maintenance time
Compact and simple cooling system
Significant reduction of start-up time for cooling by quick response with thermoelectric device
Basic specifications

| | Item | Specifications |
| --- | --- | --- |
| 1 | Cooling type | Thermoelectric(needs cooling fan) |
| 2 | Cooling area | Roller diameter 150mm x width 300mm |
| 3 | Dimensions(max.) | Diameter 200mm x length 550mm |
| 4 | Weight | About 13kg |
| 5 | Cooling capability | 400W max./roller (rotation speed:75m/min) |
| 6 | Wattage | 450W max.(includes the wattage of cooling fan) |
| 7 | Power supply method | DC60V max. applied using slip ring |
* Item 2, 3, 4, 6 can be changed to meet customer request.
No corrode of inside parts by water leakage
No corrode of inside parts due to thermoelectric device cooling system roller without using any water.
Significant reduction of periodical maintenance time
No need for periodical exchange of water, disposal of waste liquid and cleaning for roller / cooling chiller / arranged pipes
Significant reduction of maintenance time compared with water-cooled system
(6 days X 8 hours ⇒ 1 day X 0.5 hours)
Before

Periodical exchange of water

Disposal of waste liquid

antiseptic substance
antifreeze liquid

Cleaning

roller
cooling chiller
Cleaning the inside of arranged pipes
After
Compact and simple cooling system
Industry first thermoelectric device cooling roller without using any water. This technology has made compact cooling system and solved the limitation of space for commercial printing machine. (No need of cooling chiller and arranged pips for water cooling system) (Reduction of installation space by 40%)
Significant reduction of start-up time for cooling by quick response with thermoelectric device
The quick cooling is available with moving heat of roller surface to inside roller by clamp construction of thermoelectric device between cooling plate and heatsink. Cooling time is reduced to 1/6. (30 minutes ⇒ 5 minutes)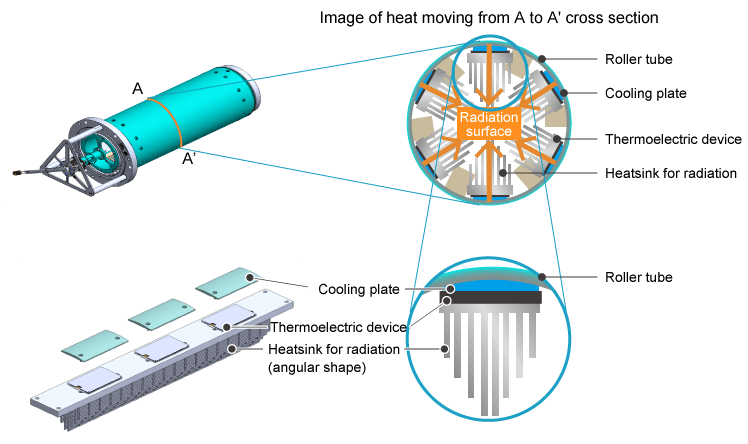 Development technology
High density of
thermoelectric device elements
Precision machining process of
thermoelectric elements
 

Precision machining process
for thermoelectric elements
(against current device: 1/4 cubic volume)
*2mm square×1mm(t)⇒1mm square ×1mm(t)

⇒Comparison for density of elements per unit area

・Current device: 16 elements / cm2
・High density device: 28 elements / cm2
(about two times)

Cooling speed will be
about twice fast
Countermeasure for inhomogeneous
surface temperature of roller in cooling
Optimized parts design
(cooling plate, shape of heatsink)
by thermal analysis

Cooling plate
(Hog-backed shape)

→same as inside shape of roller

Heatsink for radiation
(angular shape)

→Pursuit of efficient radiation on rolling

Inhomogeneous surface temperature of roller in cooling
within ±1℃(working area)
Expansion of application
Food industry

・Cooling drum

Cooling for candy / chocolate

・Kneading machine

kneading machine with temperature controller
for UDON(Japanese wheat noodle) / Soba (Buckwheat noodle)

Rubber process industry

・Cooling roller

Rubber sheet, Heating or cooling for process of leather sheet

Printing industry / Photograph industry

Cooling unit for UV irradiator

Medical industry

Cooling plate

Automotive industry

Portable air conditioner