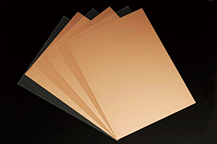 Supports high heat resistance and high withstand voltage required for xEV and Industrial devices
Support in reduction of PCB board size due to reduced creepage distances by excellent tracking resistance (PLC=0)
Halogen-free material reducing environmental impact

Laminate
R-3566D
Prepreg
R-3551D



・Automotive
・Industry
On Board Charger, DC/DC Converter, Inverter, In-Wheel Motor
EV Charging Stand, HV Control Unit, PV Module
CTI≥600V*¹ PLC=0
*¹ Measurement by ASTM method
UL FR-15.1, RTI 150°C*²
*² 0.63mm or more
High voltage CAF resistance
(1000V)
Positioning of R-3566D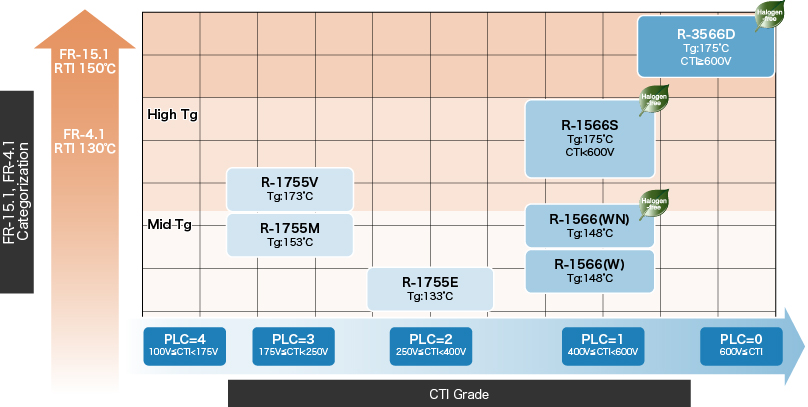 Through-hole reliability

Insulation reliability

General properties
Item
Test method
Condition
Unit
Halogen-free
R-3566D
Our conventional
Halogen-free
R-1566(W)
Glass transition temp. (Tg)
DSC
A
°C
175
148
TMA
170
145
Thermal decomposition temp. (Td)
TGA
A
°C
355
350
T288 (with copper)
IPC-TM-650 2.4.24.1
A
min
10
3
CTE z-axis
α1
IPC-TM-650 2.4.24
A
ppm/°C
40
40
α2
180
180
RTI*
UL Method
C-48/23/50
°C
150
130
PLC*
–
0
1
Peel strength
1oz (35µm)
IPC-TM-650 2.4.8
A
kN/m
1.6
1.8
Flammability
UL Method
C-48/23/50
–
94V-0
94V-0
The sample thickness is 0.8mm.
* This sample thickness is 1.6mm.
Our Halogen-free materials are based on JPCA-ES-01-2003 standard and others.
Contain; Chlorine:≤0.09wt%(900ppm), Bromine:≤0.09wt%(900ppm),
Chlorine+Bromine:≤0.15wt%(1500ppm)
The above data are typical values and not guaranteed values.
For your study !
To extend the cruising range of a BEV or to improve the power output of an Industrial Device, SiC and GaN semiconducters are used for related electronic components like DC/DC converter or Inverter. Those devices are able to work at higher voltages and also higher temperatures. On the other hand, the reductions of size and weight are common topics on every automotive part.
The CTI (comparative tracking index) and the RTI (Reference Temperature Index) are important base material characteristics to support such market trends.
 
Relationship between creepage distance and CTI
CTI is used to assess the relative resistance of insulating materials to tracking. It is one of the factors that influences the layout of the creepage distance on a PCB (Fig.1).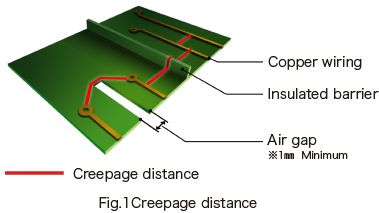 It is possible to reduce the creepage distance on a board, at the same voltage, if a material with a higher CTI is used. (Fig.2)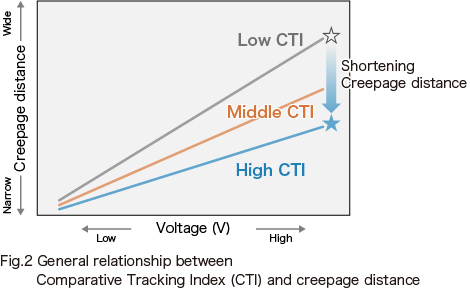 Relationship between RTI* and MOT
In former Times FR-4 has been dedicated to a max. RTI (Reference Temperature Index) of a maximum of 130°C. Because of higher temperature requirements on PCB application and its components (like GaN and SiC), a new class of FR Material has been introduced. The FR 15 class.

Materials inside this class are showing a max. RTI of 150°C.
If the final equipment has to fulfil a MOT (Maximum Operation Temperature) of 150°C, you must use base materials with a minimum RTI of 150°C.

* RTI (Relative Thermal Index)
An indicator of the ability of a material to retain certain physical properties (physical, electrical, etc.) when exposed to high temperatures for extended periods of time.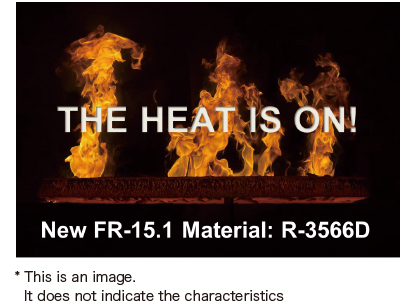 R-3566D, a high CTI and high RTI material, has an excellent tracking resistance and excellent heat resistance. This material is suitable for various applications that require high voltage and downsizing, such as automotive and industrial applications.
Related information