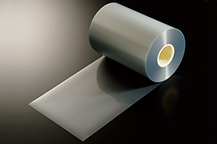 120-130% stretchable while having Low-Reflection and Anti-Fingerprint functions.
Printable on the back side and suitable for curved design molding parts.

・Automotive
Decorative Cover Lens and Other Insert Molding Parts.
120-130% Stretchable
Chemical resistance
Anti-Fingerprint
Low-Reflection
Features

Application Image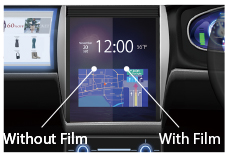 Layer Structure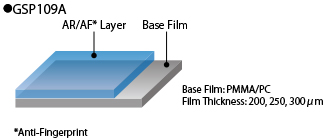 General properties
Item
Unit
GSP109A
(Under Development)
Base Film
–
PMMA/PC
Base Film Thickness
µm
200, 250, 300
Total Light Transmittance
%
93.1
Haze
%
0.1
Photopic Reflectance
%
1.8
Pencil Hardness
–
2H-3H
Scratch Resistance (500g/cm² Load with Cloth, 200 turns)
–
No remarkable scratches
Water Contact Angle
deg
108
Anti-Fingerprint
–
Good
Chemical Resistance (Sunscreen SPF45)
–
Passed
Stretching Rate (Stretching under 150°C)
–
120-130% (No Crack)
The above data are typical values and not guaranteed values.
Related information