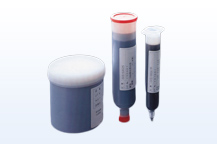 Corresponding to the diverse applications such as adhesion, filling sealing, dam formation.
Rapid curing at low temperatures and excellent adhesion. (Epoxy resin)
Designed for curing with low-energy irradiation including LED-based UV light sources.(UV curing resin)
Semiconductor Encapsulation Materials/Adhesive

CV5000 series
CV7000 series


・Mobile
・Automotive
Camera module, Image sensor, Panel displays, etc.
Bonding of various materials
Solvent resistance
Time-lagged curing
Use site and characteristics
Liquid adhesive with high adhesion, viscosity stability, workability and low-temperature rapid curability. Available for bonding of plastic lenses and housings in camera module and image sensor that requires positional accuracy and low temperature bonding.
A variety of curing types such as Thermal curing, UV curing, UV + Thermal curing, and Time-lagged curing are available for bonding and sealing of various devices according to the application and process.
 

Test results

Features of UV time-lagged curing(XV7831)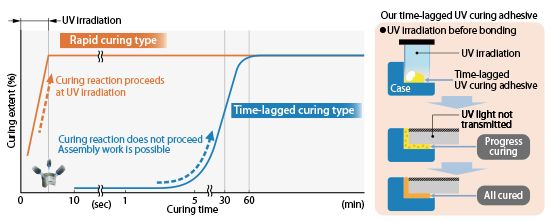 Time-lagged UV curing type can control the open time and curing time according to the application.
 
Applicable to the site where the UV light hardly reaches after assembly.
 
Temporary curing and lead time reduction is possible by low temperature and short time curing.
 
High aspect ratio of the application shape means that the strong adhesion makes it possible to apply the adhesive on a small surface.
General properties
Item
Unit
                   CV5390                   
                XV7831                
Curing Type
-
Thermosetting
UV(Time-lagged) curing
Viscosity
Pa·s
3
45
Thixotropic index
-
1.0
1.1
Tg
°C
80
35
C.T.E
ppm/K
70
75
Pot life@25°C
days
3
2
Curing condition
-
80°C/10-30 min
365nm LED-UV: 500mJ/cm2
+ Normal temp. leaving 4hrs or more*
*Curing time can be shortened by heating +50°C 30min. +60°C 15min
The above data are typical values and not guaranteed values.
Related information