We will help solve your manufacturing problems by means of process (non-defective mounting method) and solutions together with the delivery of the mounting equipment to you.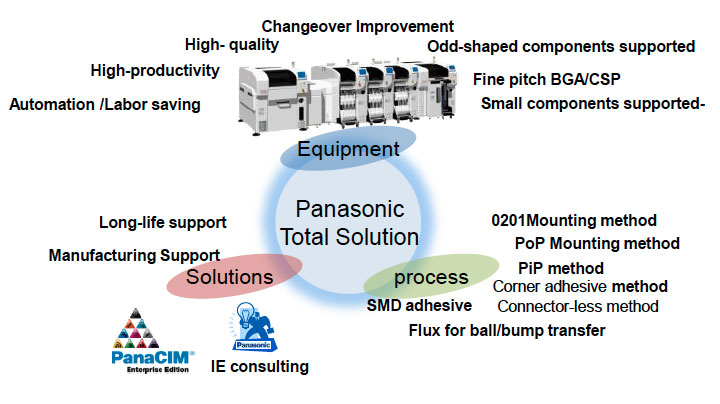 Panasonic process solutions solving your problem
0201Mounting method

Collaborating with other mounting material makers, Panasonic is not only just evolving machine function but working for technology establishment of 0201 non-defective production through the evaluation of all steps (from PCB design to reflow).
Establishment of material conditions such as mask or solder, or printing stabilization
Achievement of non-defective bonding through stable pickup of 0201 component and placement control
Verification of the processes and design of land for better non-defective production rate after reflow

PCB design
Mask design
Pickup-related
Recognition-related
Mounting-relate
Inspection machine AOI

Land measurement LW
Land gap
Land parts gap
Land material
PCB layer/material
Land surface finish
Normal/over-resist
PCB thickness
Mixed PCB
Carrier PCB

Aperture dimensions
Aperture shape
Thickness
Tension

Pickup height
Vacuum timing
Pickup position displacement threshold
Vacuum retention time
Feeding accuracy
Impact load
Z-axis speed control
Static electricity countermeasure
Pickup learning correction

Optimal reflection lamp intensity
Optimal lateral lamp intensity
Nozzle tip recognition
3D recognition thickness measurement
Mounting angle recognition
Camera magnification
Component electrode luminosity

Z-axis speed control
Accuracy implementation method
Lamp intensity and accuracy
Impact load
Mounting angle recognition
Acceleration and accuracy
Recognition SP and accuracy
Z-axis motion

Mounting position
Mounting polarity
Mounting angle
Parts float
Parts flip (180 degrees)
Parts flip (90 degrees)

Solder selection

Grain size
Viscosity
Thixo ratio
Flux ratio

Inspection machine
SPI
Screen printer requirements
Chip components
Nozzle
Solder mounting quality
Reflow

Solder position
Solder volume
Solder height
APC

Printing accuracy
Fill performance
Snap-off
Ease of cleaning
Pickup box
Floor pickup

Dimensions (component • electrode)
Taping dimensions
Pocket clearance
Taper angle
Crack durability
Cover tape charge

Optimal external shape
Optimal diameter
Vacuum pressure difference
Low impact
Components discard
Proximity limit

XY displacement threshold
Vacuum break timing
Mount hold time
Mounting impact and quality
Mounting failure judgment

Atmosphere and N2
Profile
Wettability
Quality
Detachment force
High-temperature observation oven
We can offer specific support for high yield (rate) from the startup of 0201 tiny chip production at your plant.
PIP(Pin-in-Paste) method
Pin-in-paste method (Through hole printing)
A through-hole with the high aspect ratio can be achieved by the direct press fit method of airtight head printing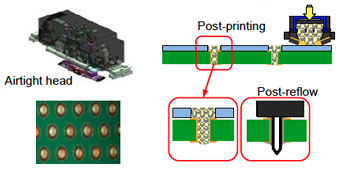 Amount of solder filled into a through-hole can be controlled by "Print speed change mode" (standard)
Blind VIA printing
High viscosity (high metal density) paste can be used by highly filled printing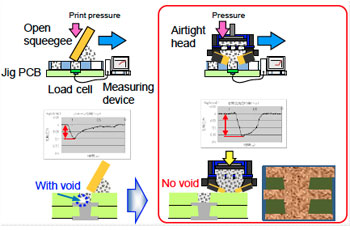 Connector-less joint
Panasonic own mounting process that FPC is directly jointed on PCB using a solder particle contained adhesive.
It contributes to cost reduction, thinner and high-density PCB.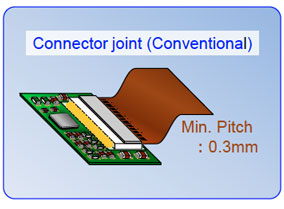 Connector-less joint
Reduces narrow pitch connector components of expensive and difficult-to-mount
Minimizes the connection area and height
High density and functional improvement of PCB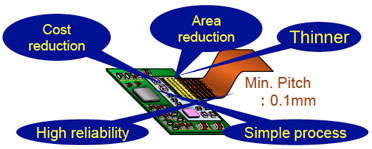 Achieves solder conductivity and resin reinforcement at the same time
Coming off prevention due to fall or impact
Completes connection only at one thermal bonding process at low-load/temperature

Supporting Panasonic SMT, electronic material
We develop and manufacture adhesive for temporary adhesion and flux for transfer used in the SMT process.
SMD adhesive
Based on your use, we provide adhesives for the flow and reflow processes.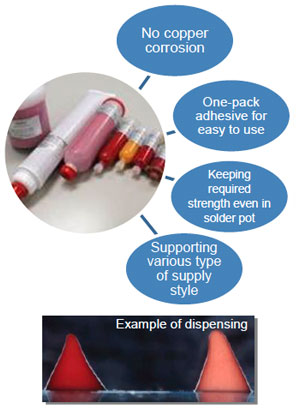 1. SMD adhesive for flow process

We respond to the following customers requests
Want to achieve high-speed dispensing using a dispenser
ADE820DX
High-speed dispensing type: 0.08 sec/dot
Red color after adhesive is cured, so it is easy to recognize
Want to adhesive that can be stored for long periods
ADE220D, ADE820DX
It can be stored at room temperature
25 degree, Sealed adhesive retention period 12 months
Want to minimize thermal damage of the components
| | |
| --- | --- |
| MR-8128N | 85ºC x 60 sec. low-temperature-curing within a short time |
2. SMD adhesive supporting reflow process (Self-Alignment Adhesive)
(1) SMD adhesive supporting reflow process

ADE451D-225
Sn / Ag solder paste
Curing time: 225ºC x 30 sec
ADE420D
Sn / Pb solder paste
Curing time: 200ºC x 30 sec
Because self-alignment adhesive cures at higher temperature than melting temperature of the solder paste, it does not hinder self-alignment effect and component subduction when solder is melted. We prepare self-alignment adhesives suitable for your solder paste.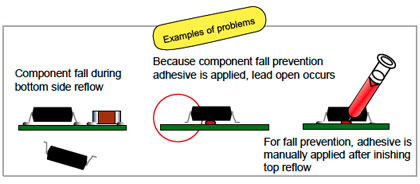 For such problems, self-alignment adhesive is effective.
ADE400D series is a high-temperature curing type SMD adhesive. We were the first in our industry to introduce the adhesive.
The solder can have good bonding quality without hindering component self-alignment during reflow.
So, fixation of large-size components that adhesive was manually applied after reflow can be performed in-line.
(2) Corner adhesive for BGA strength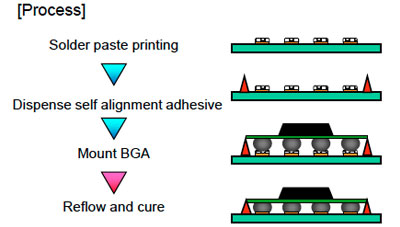 | | |
| --- | --- |
| ADE480D-1 | Curing time: 225ºC×30seconds |
Enhances BGA/CSP solder joint reliability.
The process and repair are easier than underfill.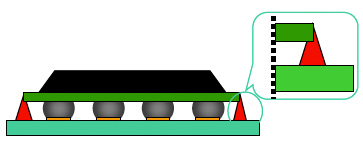 Flux for ball/bump transfer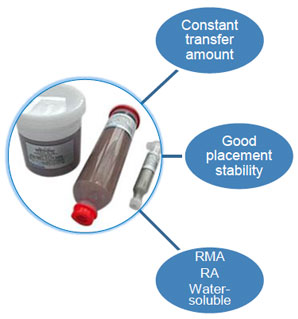 | | |
| --- | --- |
| Flux used when BGA and CSP are placed on PCB, PoP are placed or and flip chip for C4 process is placed on PCB can achieve stable supply for a long time. | |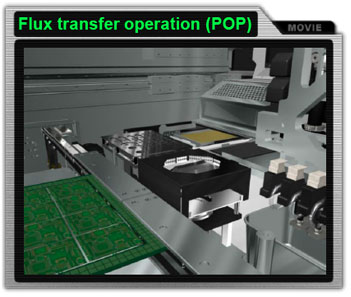 Black flux MSP514Flux/MSP615Flux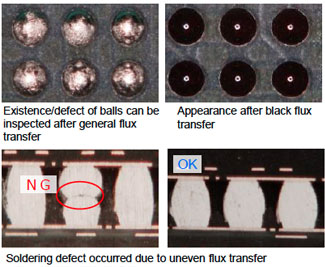 General flux (dark-brown) is also available besides black one.
MSP511Flux
RMA
blown
MSP521Flux
RA
blown
MSP620Flux
Water-soluble
dark-brown
Panasonic's own material formulation technology enables to control flux transfer by recognition.
Ball missing/defect and flux non-transferred ball can be detected by only one recognition, so high yield in the process can be achieved.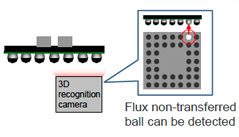 Ensuring customer satisfaction by offering anytime, anywhere and forever supports
We provides "anytime", "anywhere" and "forever" supports to ensure customers' reliable use of our products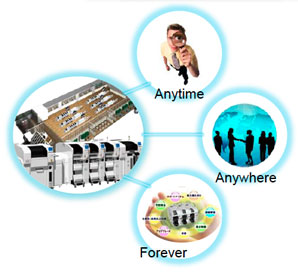 Productivity /quality Improvement (Performance Improvement)
A wide variety of support menus allow your machines to adapt into advanced products and technologies
Upgrade
Upgrading an existing machine functions with newly developed module.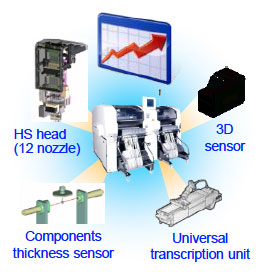 Support item
Better productivity and quality with support items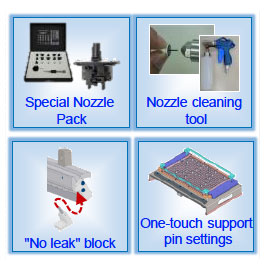 Stable operation (Performance retention)
To meet scheduled manufacturing based on the production plan, we will support a stabilized operation with various menus. We visualize your machine status by means of inspection based on the warranty contract and use of the diagnosis device. Maintenance of units such as a placement head and feeder, and overhaul of the machine will be performed.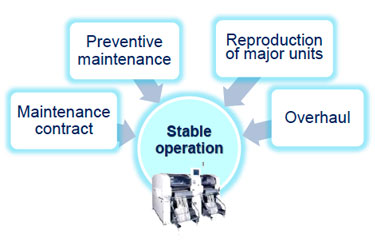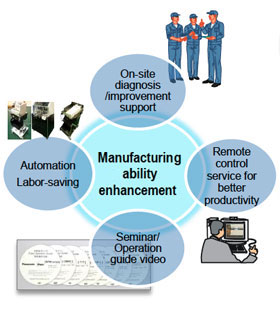 Manufacturing Ability Enhancement
Panasonic contributes to your manufacturing operation by providing various services to achieve optimal line performance, and process performance where Panasonic machines are in use.
As a diagnosis menu, we diagnose and analyze the process at your plant and provide a improvement report for countermeasure. Or as a remote diagnosis menu, we provide a report for better productivity in such a way that operating and maintenance information is timely obtained by remote control.
We also prepare a technical seminar that supports operators/engineers at your production site and a training video for the operation guide.
We will help enhance your comprehensive manufacturing capabilities with these new items.
Forever support (Life-cycle support)
"Anytime", "Forever", "Anywhere" supports
You can rest assured that Panasonic provides global, life-cycle support for equipment from introduction to stable operation and upgrading.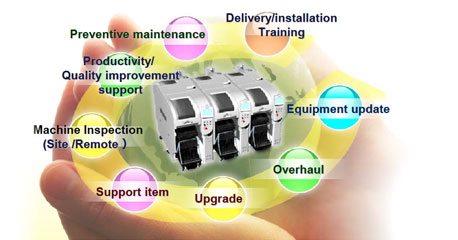 Anywhere support (Global network)
Panasonic provides equipment from three major manufacturing sites, Japan(Kofu), China (Suzhou) and Singapore.
Panasonic has established 53 service centres worldwide to ensure continuous customer support, meet fast growing of global manufacturing.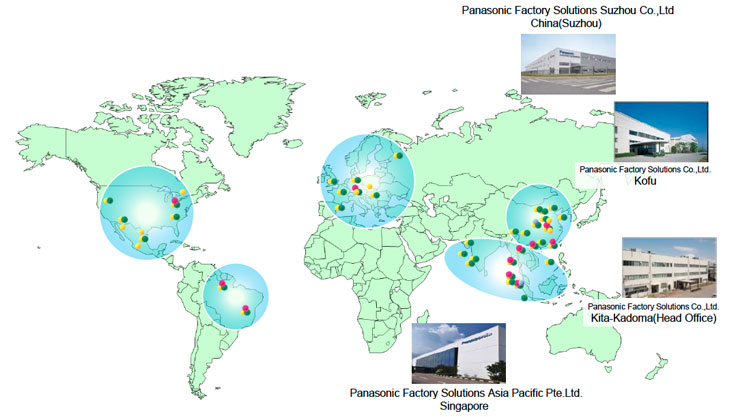 For "Anywhere" support, Panasonic provides customers all over the world with real-time/equal service through a strong network.