In-Line Process: The process head can be installed in NPM line by means of plug and play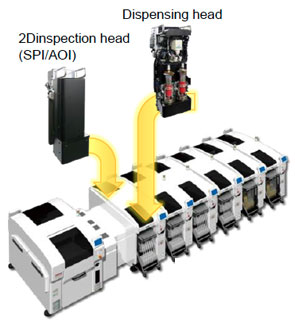 Dispensing head
Adhesive dispensing for reinforcing the joints of major components
Corner adhesive method (Drawing function)
Solder dispensing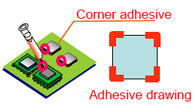 2D inspection head
Solder printing inspection
(misalignment, Oozing, blur)
Pre-reflow AOI
(misalignment, missing, IC polarity)
Shield case pre-placement inspection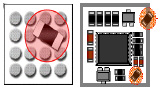 M2M (Equipment between the communication control) 
Good production APC system
Feedback control(APC-FB)
Printing position correction values (X, Y, θ) statistically processed from the SPI printing position measurement results are sent M2M(FB) to improve printing quality (prints in the "correct position")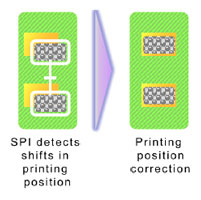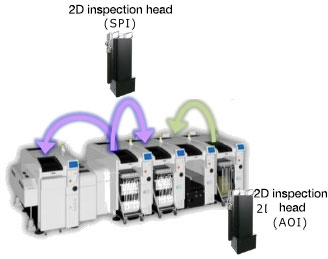 Feedforward control (APC-FF)
Mounting position correction values (X, Y, θ) based on measured solder printing position are sent M2M(FF) (target the solder position and mount) to improve post-reflow quality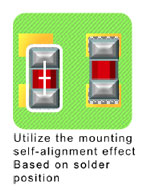 Automatically corrects variations on the machine side to inhibit the occurrence of defects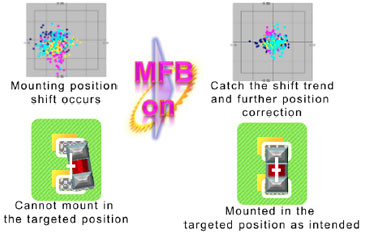 Feedback control(APC-MFB)
Inline calibration
Mounting position correction values (X, Y, θ) statistically processed from the AOI mounting position measurement results are sent M2M(FB) to maintain and improve the accuracy of the mounting position and improve quality post-reflow (mount in the targeted position as intended)
Panasonic APC system enables M2M with other company's SPI / AOI
Panasonic forms an alliance with other companies' inspection device makers in order to utilize the APC system for better production based on their SPI/AOI inspection information.
*Only certain makers can support APC-MFB from AOI. Please ask us.

Inspection device information display
(Evolved M2M function)
In case AOI judges any defect, information of the placement machine used for mounting is displayed on the AOI screen [1].
In addition, if AOI judges that modification of the machine is required, AOI sends warning to the applicable machine via machine communication. The inspection result and AOI image are displayed on the operation screen of the applicable machine so that the nozzle/feeder used for mounting can be directly identified [2].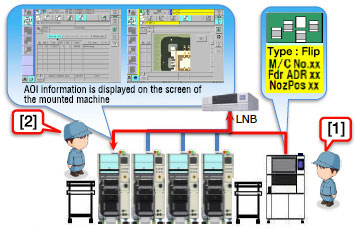 Automated/labor saving function enhancing autonomous mounting line
There are many factors that cause to stop the machine in the mounting line, resulting in variation in throughput and quality. The Panasonic automated/labor saving function achieves labor saving in the mounting line using "Automatic recovery", "Remote operation" and "Navigation" and controls manufacturing variability.
Cases of machine stop and Operator's work

Pickup error
Pickup position teach
Component recognition error
Pickup position teach
Component recog teach
PCB recognition error
Mark recognition teaching
Defective nozzles
Nozzle replacement
Cutting of cover tape
Manual correction of cover tape
Splicing defect
Manual correction of pitch misalignment
Component exhaust
Components replenishment
Stop due to changeover
Changeover

 

Panasonic automated/labor saving solutions

| | | |
| --- | --- | --- |
| | Errors the machine can automatically handled/recovered | Automatic recovery options |

| | | |
| --- | --- | --- |
| | Operations that require manual work for recovery | Navigation |

| | | |
| --- | --- | --- |
| | Reduction of production variation resulting from difference in operator skill | Automated items |
Automatic recovery of pickup/recognition error

When the machine detects a pickup error or recognition error, it automatically performs operations (pickup position teach) required for machine restart. Therefore, a line operator does not need to do recovery operation. Because the function can reduce the number of events that several placement machines stop at the same time, it is very effective for labor saving.
Navi of Parts supply
A component supply support tool that navigates efficient component supply priorities.
It considers the time left until component run-out and efficient path of operator movement to send component supply instructions to each operator. This achieves more efficient component supply with to suppress the generation of component supply waiting stop.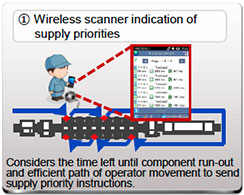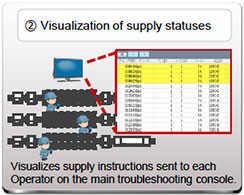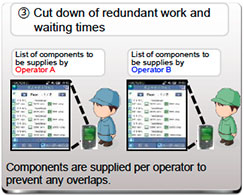 *PanaCIM-EE is required if an operator is in charge of supplying components to multiple production lines.
Automation items
Automates operations that were dependent with operator/engineer experience or skill.
They can offer stable productivity/quality to reduce production variation resulting from difference in operator skill.
Automatic tape splicing unit,
ATSU

Automates splicing operation of 8mm width tape (paper/embossed) with non-technical skills.
Constant splicing man-hour.
Power cordless anywhere to use (Lead-acid battery drive)
Feeder maintenance unit,
IFMU

Automates the inspection of major parts which affect the feeder performance and the calibration of the pickup position.
Prevents the outflow of defective feeders to the site while maintaining high mounting quality.
Head maintenance unit

Automates placement head maintenance with non-technical skills.
Maintains mounting quality due to performing maintenance and inspection at the same time together with inspection.
Constant maintenance man-hour.