Electronics products follow the step of inserting the electronic components such as axial radial, the step of inserting the functional parts of various shapes and the steps to finish the form to be provided to the end user after the SMT process, and the product will be completed.
Panasonic proposes a variety of solutions towards the better automation rate of these post-SMT process.

Axial lead component insertion machine/
Radial lead component insertion machine

Panasonic's electronic component mounting machine business starts from the development of the axial parts automatic insertion machine in 1968. The machine accumulate by experience and know-how for many years provides high productivity and quality to our customers.
High Speed Jumper Wire Insertion Machine


JV131

High-speed Axial Lead Component Insertion Machine


AV132

High-Speed Radial Lead Component Insertion Machine


RL132

High Density Radial Lead Component Insertion Machine


RG131

High Density Radial Lead Component Insertion Machine


RG131-S
Operator Saving in Final Assembly Process
The final assembly process is a complex and rapidly-changing process in order to meet the various customers' request such as requirement of a variety of lineup. Because of this, manual operations also continue due to the lack of automation machinery that undercuts traditional labor costs.
On the other hand, countermeasures against labor cost inflation and high turnover ratio have become big issues in the labor market.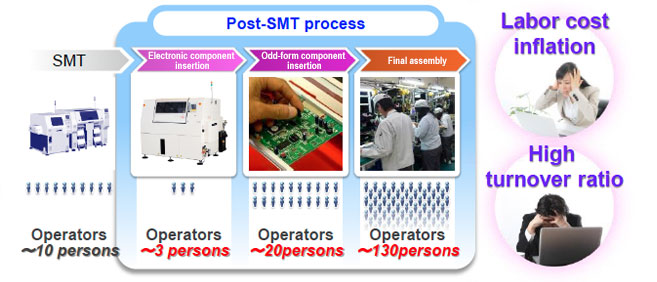 With IE (Industrial Engineering) method using all the long established manufacturing knowhow we gathered from our operation experiences of over 300 factories worldwide, we will provide the operator saving solutions while eliminating unneeded work during last assembly process and performing line balancing with process streamlining and high quality improvement.

First, the current state of final assembly line operation is analyzed.
Unnecessary operations are removed by differentiating between valuable and unnecessary operations.
Operation order is then revised and balanced throughout the lines.
Through this process, labor resources are reduced without large-scale machinery investment.
Next, standard operations that do not depend on the changeover and the ones that largely influences the quality are extracted, and then an automated machine is introduced to achieve labor-saving.
Human-automated machine cooperation will achieve further labor-saving.

Automated solution equipment to the final assembly process
Parallel link robot PLR Series

Free angle of 6/7-axes
Hand-guiding instruction
Rich lineup supports a wide variety of applications
Compact welding laser CB Series

Spot soldering using solder paste or wire solder
Laser beam can be set from a minimum spotsize of 0.2mm
Soldering to a narrow area where a soldering iron cannot be used