Compact size

Unit (mm)
Line name
Rotary Head
Mounter Line
VM series line
Max. speed*
84 545 cph
93 500 cph
Max. no. of component types
8 mm Tape


420 components


Tray


80 components

8 mm Tape


280 components


Tray


20 components

Line dimensions (mm)
W 9 060 × D 2 470 × H 1 800
W 3 365 × D 2 372 × H 1 500
Component size
0402 ~ □55 mm or 150 × 25 mm
0402 ~ 120 × 90 mm or 150 × 25 mm
Placement accuracy
±50 μm
VM101 : ±30 μm
VM102 : ±40 μm
* Under our optimal conditions
High performance
Placement head
VM101
Equipped with the head for NPM X series, it delivers a mounting accuracy of ±30 μm (Cpk ≧ 1).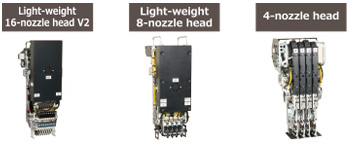 VM102
Equipped with the 14-nozzle head capable of mounting various parts ranging from miniature to odd-shaped parts, it can be independent of PCB conditions and thus achieve an optimal line balance.

Multi-recognition camera
Type 1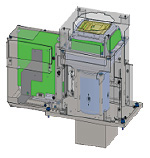 Equipped with camera with the same performance as NPM to improve component recognition. Possible to build up to type 2 or 3 to realize high-quality placement.
Multi-camera (type 1)
*Standard installation
Type 2
Flip
detection
Checks components with lead for face
Component
thickness
measurement
Measures component thickness and reflects the result in the placement height
Nozzle
tip check
Checks the nozzle height regularly for any error
Ejection
detection
Checks any foreign matters adhered onto nozzle tips during component ejection
Type 3
| | |
| --- | --- |
| | Possible to detect the coplanarity of any leads of QFP, SOP, etc., and the presence/ absence of any ball on BGA, CSP, etc. |
Useful functions for changeover
Common sequence and cut tape
Pre-installation of feeders used for each product PCB (common sequence) permits efficient production of multi-product PCBs.
Auto load feeder enables even the supply of cut tape*. (Prototype/low-volume production)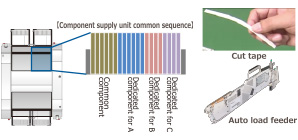 *Please contact your sales  representative for details.
1-step action (Component pickup)
Moving the placement head step by step permits you to make adjustments while checking pickup actions.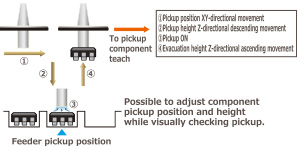 Automatic replacement of support pins
Automates the support pin place exchange, and contributes to saving labor, or reducing errors, during changeover.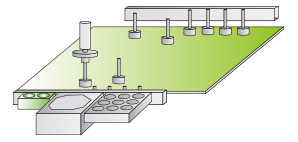 VM series