Feeder setup navigation
The time required for production is estimated while considering the amount of time it takes to perform and complete setup operations and setup instructions are provided to the operator.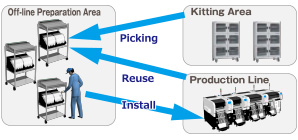 Offline setup or in-line machine setup to be instructed through 3 steps - "install," "remove" and "move."
Component verification
Erroneous setup of components can be prevented by checking downloaded production data against the barcode data of the components to be replaced.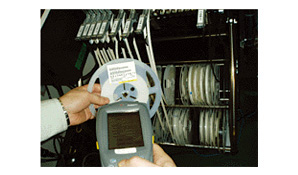 Automatic changeover
It assists changeover (change of production data, rail width, etc.), and minimizes work losses.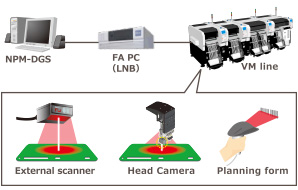 Component supply navigation
In consideration of the time to the shortage of components and the least wasted traveling path, instructions for components supply are provided to the operator.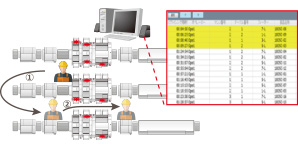 Visualization of the supply instruction being issued to each operator with 'Andon'
APC system
Feeds forward the correction value calculated from printed solder positions to the placement head.
Applicable components :
Chip components (0402C/ R~)
Package components (QFP/BGA/CSP)

*To be connected to NPM series machine equipped with inspection head or another vendor's inspection machine.
For details, contact your local sales representative.
Mounting MES software
(PanaCIM-EE Gen2)
Helps improve productivity and quality by, in collaboration with Panasonic equipment or host systems (LNB/DGS), keeping track of and managing entire mounting floor, and providing appropriate support/instructions for operators.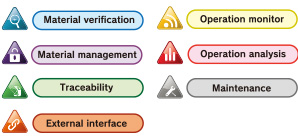 System configuration (minimum)
For three machines or less, minimum system configuration is available, with both AM-LNB and NPM-DGS on a single PC *2.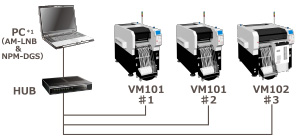 *1 : Prepare a PC for AM-LNB on your own.
*2 : Depending on the option you select, you may need an FA PC for LNB.
Data creation (NPM-DGS)
Software package to crate, edit or simulate production data, or integratedly manage the library.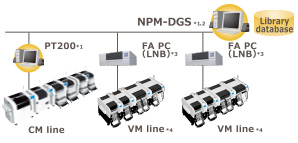 *1 : 
A PC must be purchased separately.
*2 : 
NPM-DGS has two functions; the floor level control and line level control.
*3 : 
LNB(Line Network Box)
Line is created with several machines to centralize and control information.
*4 :
For connection with NPM series in VM line, contact your local sales representative.
Integrated line management (iLNB)
Connecting via a PC to other vendors' machines allows for collective line control over changeover, operation performance, quality control or process support, etc.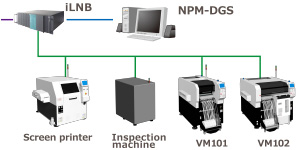 VM series