Remote operation option
Recovery by remote operation is available for the error of which recovery can be made based on human judgment alone.
This enables concentrated on-the-floor monitoring, eliminating the time lost for the operator to detect error and take appropriate action,
reducing the error recovery time, and thus achieving labor saving and improved operating rate.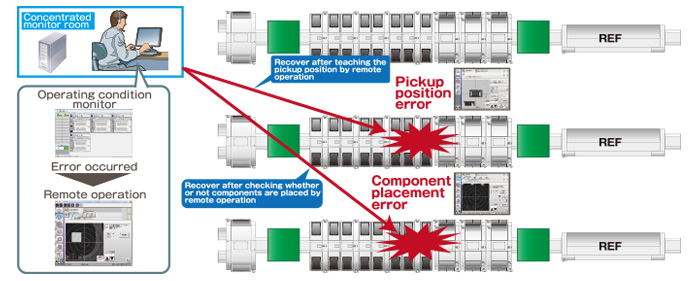 Component supply navigator option
It is a support tool to navigate efficient setup procedure. The tool factors in the amount of time it takes to perform and complete setup operations when estimating the time required for production and providing the operator with setup instructions.
This will visualize and streamline setup operations during setup for a production line.
Parts supply navigator option
It is a parts supply support tool to present an efficient sequence of parts supply. Taking into account the length of time before parts shortage occurs and the least time-wasting moving path possible, the tool provides the operator with instructions for parts supply.
This makes parts supply more efficient.
Placement head maintenance
Good use is made of the machine's self-diagnosis function to automatically detect the maintenance timing of the placement
head. In addition, the maintenance unit can be used to keep the placement head in working condition without requiring skills.
Feeder maintenance
Independent of operator skill, the feeder maintenance unit automatically performs feeder performance inspections and calibrations. Its combined use with the PanaCIM maintenance module can automatically prevent the inclusion of non-conforming feeders into production.
Load checker
(Under development)
Measures the "indentation load" imposed by the placement head, and, as the amount of change from the reference value, displays the measured result on the machine's monitor or LNB.
Head maintenance unit
To automate the inspection and maintenance of the placement head.
Feeder maintenance unit
Automates the inspection of major parts which affect the feeder performance and the calibration of the pickup position.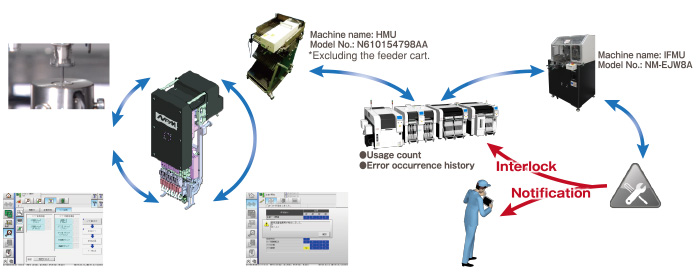 Head diagnosis function
Inspects the pneumatic circuit condition
Blow error detection*1
Checks the placement blow status
*1 : This function comes standard with the machine
Interlock function
Monitors the error status during production, and applies Interlock to defective feeders
Interlock for feeders judged non-conforming by IFMU

Thin-type single feeder attachment *2 (option)
*2 : The "Thin type single tape feeder" and "Autoload feeder" require the "Master jig for thin type single feeder" and "Attachment for thin type single feeder".
PanaCIM maintenance
Manages the assets of mounting floor, such as machines, heads and feeders, notifies the assets nearing their maintenance dates, and records maintenance histories.
Inspection option before pick-up
Inspect tray or reel components before pick-up to prevent misplacement.
1. Polarity inspection

=>

Detects wrong component orientation

2. Component number inspection

=>

Detects wrong components, traces components.

NPM-WX,WXS