Basic Specification
Conventional NPM series comes with one simple beam, allowing for various operations ranging from an NPM series backup to multiple connection configuration
Directly connectable to NPM-W2
Support for single-/dual-lane transport
Selection of the mounting head according to production form
Selectable from Lightweight16-/12-/Lightweight8-/3-nozzle head V2
Mutual compatibility with NPM series
Shared use of the placement head/nozzle, tape feeder and feeder cart
*For details, contact our sales representative.
Adoption of 3-nozzle head V2
Capable of a max placement load of 100N.
Rear & Front Feeder Layout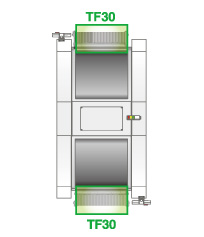 Single Tray Layout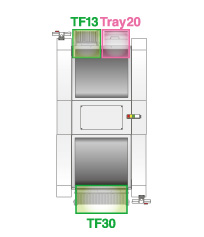 Twin Tray Layout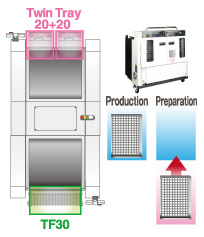 Operation example 1 (A backup to NPM line)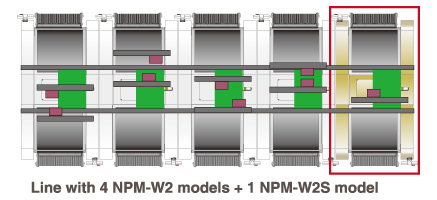 Operation example 2 (NPM-W2S connected line)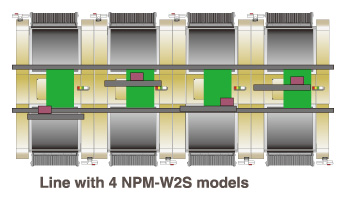 Optional functions
Inspection option before pick-up
Inspect tray or reel components before pick-up to prevent misplacement.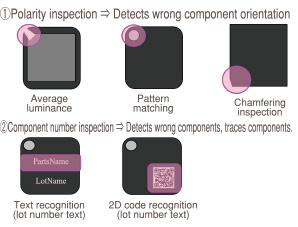 Automatic pick-up error recovery
When pickup/recognition error occurred, the machine automatically corrects the pickup position without stopping, and resumes production.
That improves machine operation rate.
(Components: 4 mm embossed (black)/ 8 mm paper/embossed (black) tape component. *Embossed tape (transparency) is not supported.)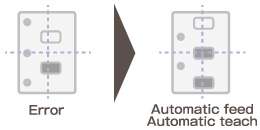 PIP lighting unit
Recognizes the locations of insertion lead components, as well as bends in the components, before placement.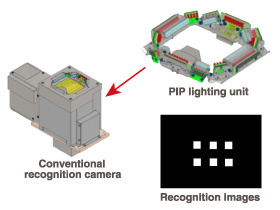 NPM-W2S