Applicable Components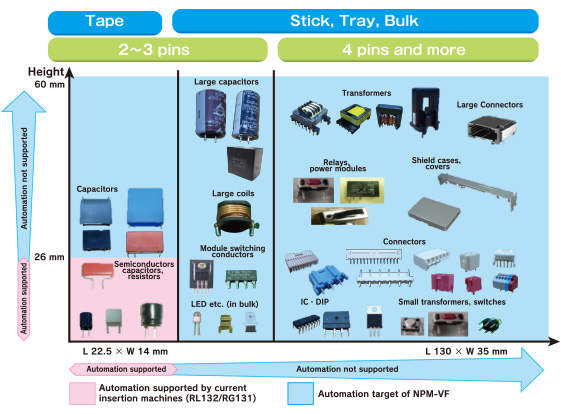 Support for SMT components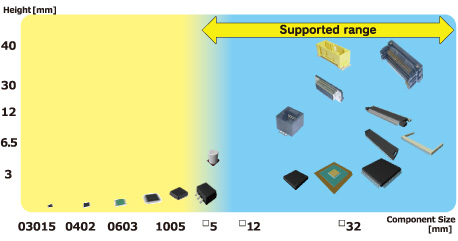 Supported range of the tape feeder
Embossed tape: 12 to 104 mm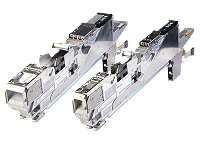 Intelligent tape feeder
The multi-recognition camera is selectable from both types 1 (standard specs) and 3 (3D measurement function-ready). (Option)
Examples of applicable components
Outline
Height
Minimum lead pitch /
minimum ball pitch
Minimum lead width /
minimum ball diameter
Minimum ball height
QFP • SOP
□5 mm ~
1.0 mm ~
0.5 mm
0.2 mm
-
BGA • CSP
□5 mm ~
0.3 mm ~
0.5 mm
0.3 mm
0.25 mm
Line Solution
Reduce manual insertion assembly process
Prevent human errors, improve quality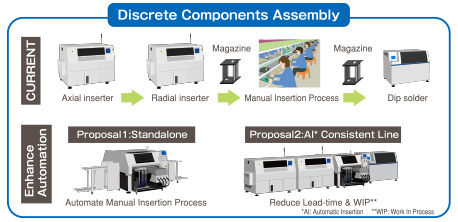 Convert manual insertion process to SMT inline process
Reduce processes / dip solder investment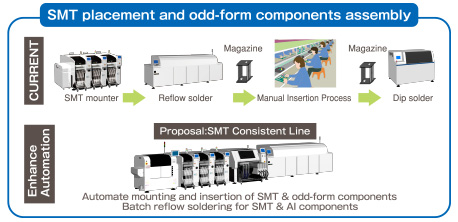 High Productivity
High speed insertion
Maximum tact of 0.65 s* is achieved by 2-beam 2-head structure. Compared to manual insertion, 1 NPM-VF is able to replace 3 to 5 operators. In addition, each head can hold up to 3 tools (chucks, nozzles), enabling effective movement of the insertion heads.
*Note : Under condition specified by PSFS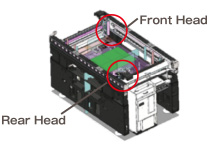 Non-stop Production
Stackable stick feeder
Sticks can be loaded during machine operation, reducing machine down time due to component exhaust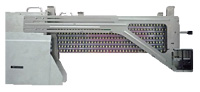 Tray feeder
Tray pallets can be replenished during machine operation
Variable pitch body chuck
Motorized body chuck varies chuck opening according to component size, greatly reducing dead space, chuck exchange time and increasing productivity.

Chuck width is optimized to suit component width

Adapters can be attached to chuck tips for better gripping of components
Flexibility
Various tools to cater to different components

Body chuck
Chuck Adapter changer available
Push force up to 100N

Nozzle
Nozzle changer available
Push force up to 100N
Lead chuck

Swing nozzle
Various component feeding types

Tray Feeder

Stick Feeder
Feeder width adjustable according to stick size

Radial Tape Feeder
*Other maker's feeder is available when connecting via Host Feeder. Please contact us for details.

Bowl Feeder*
*Customized spec. (Connect via Host Feeder)
Flexible feeder configuration

*1 feeder cart is selectable
*2 bowl feeder is customized spec. Can also be placed to the front. For details, contact us.

Feeder cart

Single tray feeder

Twin tray feeder
Quality Insertion
Recognition correction and component inspection function
NPM-VF is equipped with 2 cameras (head camera and component camera) to scan PCB holes, PCB marks and component leads, ensuring high quality and stable insertion.
Component verification & Traceability (Option)
Prevents setting mistakes when exchanging parts and supports fabrication history management.
Insertion error detection system
Component height will be detected via sensor after insertion to determine if it is inserted correctly.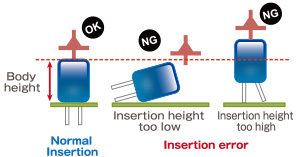 *It may not be possible to detect when component lead is too soft and would not support itself.
Recovery Operation
In the case of insertion error, PCB will automatically be flowed to the upstream extension conveyor for the operator to remove the error components.
Cut & Clinch Function (Option)

Function : prevent protrusion of components after insertion, improving insertion stability
Features :
variable pitch clinch (2.5~40 mm) with piezoelectric detection system for insertion errors
NPM-VF