Changeover ability - Automatic changeover option
Supporting changeover (production data and rail width adjustment) can minimize time loss

• PCB ID read-in type
PCB ID read-in function is selectable from among 3 types of external scanner, head camera or planning form

M2M - iLNB* (Model No.NM-EJS5B)
Collective control of your line composed not only of Panasonic's machines but of third vendors' through a single PC provides support for your actual production, quality control and processing.
Panasonic is ready to take on the interface between its machines and third vendors'.

| Item | Panasonic | Non-Panasonic |
| --- | --- | --- |
| Information collection / display | | |
| Automatic changeover | | |
*For details, refer to the catalogue or specification for the integrated line management system"iLNB."
Function list
Function
Details

1

Automatic changeover

Registration of automatic changeover recipe
Line automatic changeover
Automatic changeover monitoring
Line operation monitoring

2

E-Link


(Information input)

Download / edit of schedule

3

E-Link


(Information output)

Operation information output
Trace information output
Machine status output

4

E-Link


(Machine control)

Machine interlock, Production start control

5

E-Link


(Feeder write)

Writing of component data by an external system

6

Communication


function




(GEM・PLC)

SECS2/GEM communication
OPC communication
IO/RS-232C communication
*The iLNB comprises software and a computer (iLNB PC).
PLC PC, communication conversion PLC, and other devices should be prepared by customers.
M2M - PCB Info Communication Function  AOI Info Display Option
NPM at the line head recognizes marks, and forwards mark information to downstream NPMs. That eliminates the need for the downstream NPMs to recognize the marks.
Subject for communication
Bad mark recognition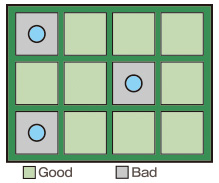 Bad mark is scanned at the first machine.
Pattern mark recognition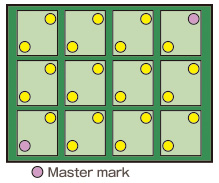 All marks are recognized at the first machine and downstream machines only recognize master marks.
*Please refer to"Specification booklet" for details.

Information on components judged NG by AOI is displayed both on AOI and NPM.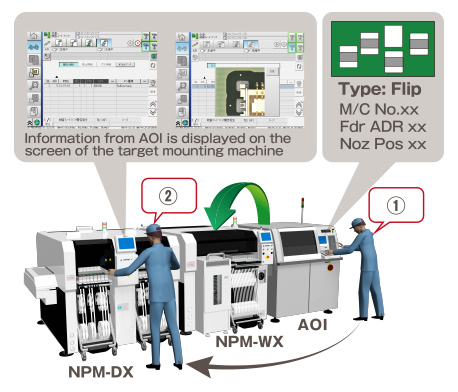 AOI is used to pinpoint target NPM
The target NPM is put in a warning state, and information from AOI is displayed on the screen
Data Creation System - NPM-DGS (Model No.NM-EJS9A)
This is a software package that provides integrated management of component library and PCB data, as well as production data that maximizes mounting lines with high-performance and optimization algorithms.
*1:A computer must be purchased separately.
*2:NPM-DGS has two management functions of floor and line level.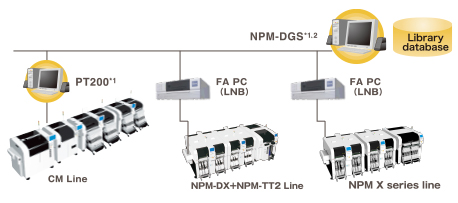 CAD import
Allows you to import CAD data and check polarity, etc., on the screen.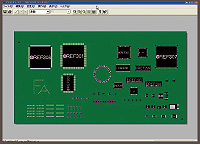 Optimization
Realizes high productivity and also allows you to create common arrays.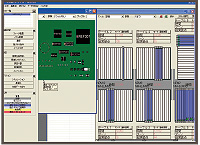 PPD editor
Update production data on PC during production to reduce the loss of time.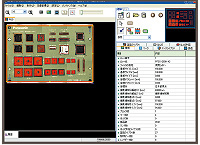 Component library
Allows unified management of the component library including mounting, inspection and dispensing.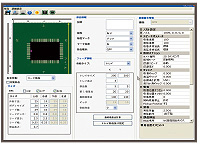 Data Creation System - Offline Camera (option)
Component data can be created offline even while the machine is in operation.
Use the line camera to create component data.
Lighting conditions and recognition speed can be confirmed in advance, so it contributes to the improvement of productivity and quality.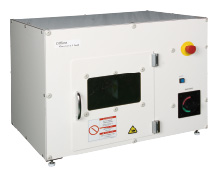 Offline Camera Unit
Data Creation System - DGS Automation (option)
Automated manual routine tasks reduce operation errors and data creation time.
Manual routine tasks can be automated.
By collaborating with the customer system, the routine tasks for creating data can be reduced, so it contributes to a significant reduction in production preparation time.
It also includes the function to automatically correct the coordinates and angle of the mounting point (Virtual AOI).
Example of entire system image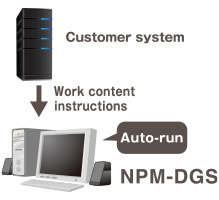 Automated tasks (excerpt)
CAD import
Offset mark setting
PCB chamfering
Mounting point misalignment correction
Job creation
Optimization
PPD output
Download
Data Creation System - Optimization of setup (option)
In production involving multiple models, setup workloads are taken into account and optimized.
For more than one PCB sharing common component placement, multiple setups may be required due to a shortage of suppy units.
In order to reduce the required setup workloads in such a case, this option divides PCBs into similar component placement groups, selects a table (s) for setup and thus automates component placement operation.
It contributes to improving setup performance and reducing production preparation time for customer manufacturing various kinds of products in small quantities.
Example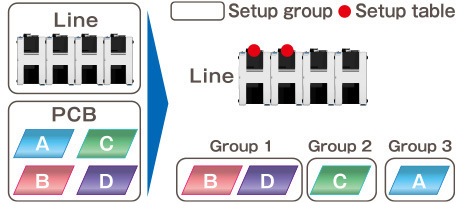 Component Verification option - Off-line setup support station
Prevents setup errors during changeover
Provides an increase of production efficiency through easy operation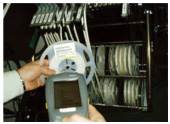 *Wireless scanners and other accessories to be provided by customer
Preemptively deters component misplacement
Prevents misplacement by verifying production data with the barcode information on changeover components.
Automatic setup data synching function
The machine itself does the verification, eliminating the need to select separate setup data.
Interlock function
Any problems or lapses in verification will stop the machine.
Navigation function
A navigation function to make the verification process more readily understandable.
With the support stations, offline feeder cart setup is possible even outside of the manufacturing floor.
• Two types of Support Stations are available.

1
Power Supply Station :
Batch Exchange Cart Setup – Provides power to all feeders in cart.
Feeder Setup – provides power to individual feeders.

2
Component Verification Station :
Additional to the power supply station, Component Verification feature is added to this model.
The station will navigate you to the location where feeders need exchange.
Open interface - Host communication option
Able to standardize the interfacing with your systems currently used. Provides data communication with our standard interfaces.

Events
Outputs a real-time event of equipment
Other company's component verification
Communicates with your component verification systems
Component management data

Component remaining quantity data :
Outputs component remaining quantity data
Trace data :
Outputs data linked with component information (*1) and PCB information (*2)
(*1) Requires input of component information with a component verification option or an other company's component verification system I/F
(*2) Requires input of PCB information with automatic changeover option
NPM-DX