High-quality placement - APC system
Controls variations in PCBs and components, etc. on a line basis to achieve quality production.
APC-FB*1
Feedback to the printing machine
Based on the analyzed measurement data from solder inspections, it corrects printing positions. (X,Y,θ)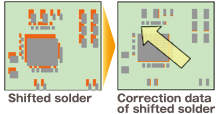 APC-FF*1
Feedforward to the placement machine
APC-MFB2
Feedforward to AOI /
Feedback to the placement machine
It analyzes solder position measurement data, and corrects component placement positions (X, Y, θ) accordingly.
Chip components (0402C/R ~)
Package component (QFP, BGA, CSP)
Position inspection on APC offset position

The system analyzes AOI component position measurement data, corrects placement position (X, Y, θ) , and thereby maintains placement accuracy.
Compatible with chip components, lower electrode components and lead components*2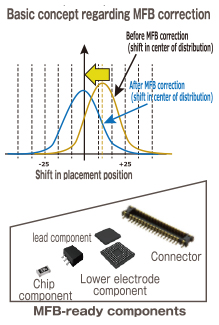 *1 : APC-FB (feedback) /FF (feedforward) : 3D inspection machine of another company can be also connected. (Please ask your local sales representative for details.)
*2 : APC-MFB2 (mounter feedback2) : Applicable component types vary from one AOI vendor to another. (Please ask your local sales representative for details.)
Component Verification option - Off-line setup support station
Prevents setup errors during changeover Provides an increase of production efficiency through easy operation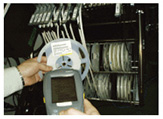 *Wireless scanners and other accessories to be provided by customer
Preemptively deters component misplacement
Prevents misplacement by verifying production data with the barcode information on changeover components.
Automatic setup data synching function
The machine itself does the verification, eliminating the need to select separate setup data.
Interlock function
Any problems or lapses in verification will stop the machine.
Navigation function
A navigation function to make the verification process more readily understandable.
With the support stations, offline feeder cart setup is possible even outside of the manufacturing floor.
• Two types of Support Stations are available.

Changeover ability - Automatic changeover option
Supporting changeover (production data and rail width adjustment) can minimize time loss

• PCB ID read-in type
PCB ID read-in function is selectable from among 3 types of external scanner, head camera or planning form

Changeover ability - Feeder setup navigator option
It is a support tool to navigate efficient setup procedure. The tool factors in the amount of time it takes to perform and complete setup operations when estimating the time required for production and providing the operator with setup instructions.
This will visualize and streamline setup operations during setup for a production line.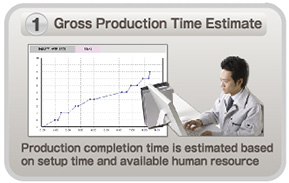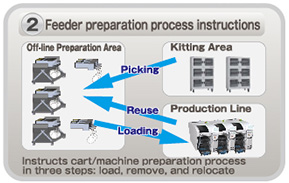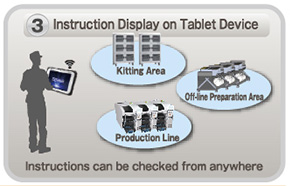 Operating rate improvement - Parts supply navigator option
A component supply support tool that navigates efficient component supply priorities. It considers the time left until component run-out and efficient path of operator movement to send component supply instructions to each operator. This achieves more efficient component supply.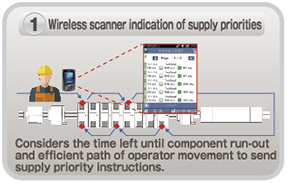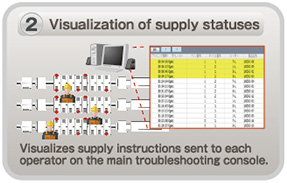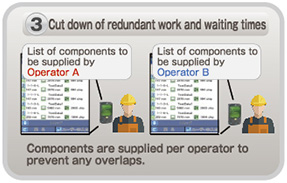 *PanaCIM is required to have operators in charge of supplying components to multiple production lines.
PCB information communication function
Information of mark recognitions done on first NPM machine in line is passed on to downstream NPM machines.
Which can reduce cycle time utilizing the transferred information.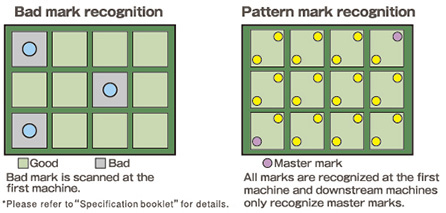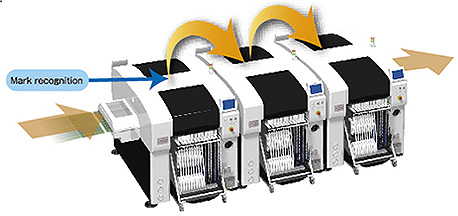 Data Creation System - NPM-DGS (Model No.NM-EJS9A)
The software package helps to achieve high productivity through integral management of creation, editing and simulation of production data and library.
*1:A computer must be purchased separately.
*2:NPM-DGS has two management functions of floor and line level.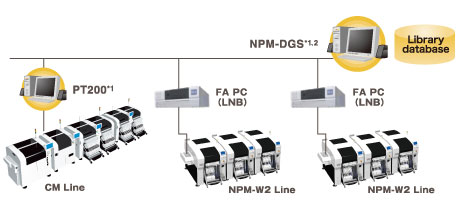 Multi-CAD import
Almost all CAD data can be retrieved by macro definition registration. Properties, such as polarity, also can be confirmed on screen in advance.

Simulation
Tact simulation can be confirmed on screen in advance so that line total operation ratio can increase.

PPD editor
With quickly and easily compiling placement and inspection head data on the PC display during operation, time loss can be minimized

Component library
A component library of all placement machines including the CM series on floor can be registered to unify data management.

Mix Job Setter (MJS)
Production data optimization allows the NPM-D2 to commonly arrange feeders.Feeder replacement time reduction for changeover can improve productivity

Off-line component data creation
option
With creating off-line component data using a store-bought scanner,productivity and quality can be improved.

Data Creation System - Offline Camera Unit (option)
Minimizes time on machine for parts library programming and assists equipment availability and quality.
Parts library data is generated using the line camera
Conditions not possible on a scanner such as Illumination conditions, and recognition speeds, can be checked offline assuring quality enhancements and equipment availability.

Quality improvement - Quality information viewer
This is software designed to support a grasp of changing points and analysis of defect factors through the display of quality-related information (e.g., feeder positions used, recognition offset values and parts data) per PCB or placement point. In case of our inspection head introduced, the defect locations can be displayed in association with quality-related information

*PC is required for every line.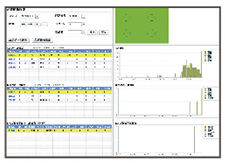 Quality information viewer window
Example of use of quality information viewer
Identifies a feeder used for mounting of defect circuit boards. And if, for example, you have many misalignments after splicing, the defect factors can be assumed to be due to;
splicing errors (pitch deviation is revealed by recognition offset values)
changes in component shape (wrong reel lots or venders)
So you can take quick action to the misalignment correction.
NPM-W2