Simultaneous realization of high area productivity and high-accuracy placement
High production mode (High production mode: ON)
Max. speed: 84 000 cph *1 (IPC9850(1608):63 300cph *1 )/ Placement accuracy: ±40 μm
High accuracy mode (High production mode:OFF)
Max. speed: 76 000 cph *1 / Placement accuracy: ±30 μm(Option:±25μm *2)
*1:Tact for 16NH × 2 head
*2:Under conditions specified by Panasonic

New placement head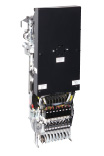 lightweight 16-nozzle head
New high-rigidity base

High rigidity base supporting high-speed / accuracy placement
Multi-recognition camera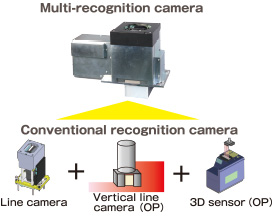 Three recognition functions combined into one camera
Faster recognition scan including components height detection
Upgradable from 2D to 3D specifications
High productivity - Employs dual mounting method
Alternate,Independent & Hybrid Placement
Selectable "Alternate" and "Independent" dual placement method allows you to make good use of each advantage.
• Alternate :

Front and rear heads execute placement on PCBs in front and rear lanes alternately.

• Independent :

Front head executes placement on PCB in front lane and rear head execute placement on rear lane.

High productivity through fully independent placement
Achieved independent placement of tray components by directly linking with NPM-TT (TT2).
Capable of fully independent placement of tray components improving cycle time of mid-, large-size component placement with 3-nozzle head. Output of entire line is enhanced.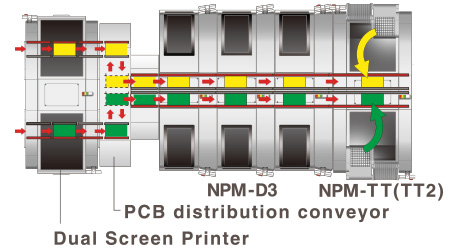 PCB exchange time reduction
Allow standby PCB with less than L=250mm* at upstream conveyor inside machine to reduce PCB exchange time and improve productivity.
*When selecting short conveyors
Automatic replacement of support pins (option)
Automate position change of support pins to enable non-stop changeover and help save man-power and operation errors.
Quality improvement
Placement height control function
Based on PCB warpage condition data and thickness data of each of the components to be placed, the control of placement height is optimized to improve mounting quality.
Operating rate improvement
Feeder location free
Within same table, feeders can be set anywhere.
Alternate allocation as well as setting of new feeders for next production can be done while the machine is in operation.
Feeders will require off-line data input by support station (option).
NPM-D3