Features
Graphite-PAD is a high-quality thermal interface material (TIM), and its characteristics are the ones that existing thermal PADs do not have, which are excellency in thermal conductivity and flexibility (deforms with low-load).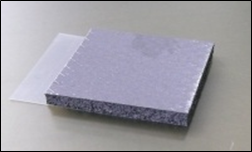 We have improved thermal conductivity toward thickness direction (Z-axis direction) by filling PGS graphite sheets that have high thermal conductivity into silicon resin.
The excellent flexibility will enlarge the degree of freedom in designing.
Structure

Recommended applications / Usage example
Industrial field:general-purpose inverters, medical devices, and so on
In-vehicle field:car mounted cameras, motor control unit, and so on
【Usage example】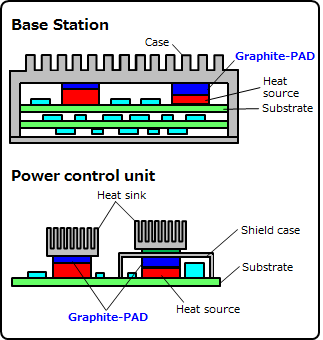 Characteristics
| Characteristics | Unit | Test method / condition | Target value |
| --- | --- | --- | --- |
| Hardness | Type E | ASTM D2240 | 25 |
| Volume Resistance*1 | Ω・cm |   | 4 X 105 |
| Thermal Conductivity*2 | W/mK | ASTM D5470, 50kPa | 13 |
| Application Temp. Range | °C |   | -40 to + 150 |
| Thickness | mm |   | 0.5,1.0,1.5,2.0,2.5,3.0 |
This is a conductive material.
The component is to apply to the place where it does not need any insulation.
Measuring device:TIM Tester ( ANALYSIS TECH, ASTMD5470 compliant )
Graphite-PAD Thickness characteristic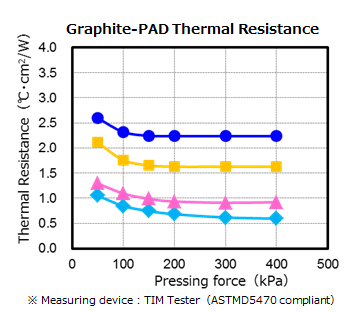 ・ Good thermal resistance can be obtained from low-pressing force
Comparison with competitive products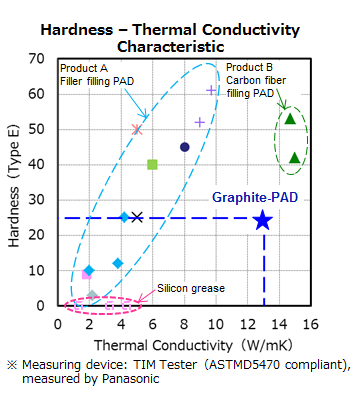 ・ Graphite-PAD maintains both high-thermal conductivity and flexibility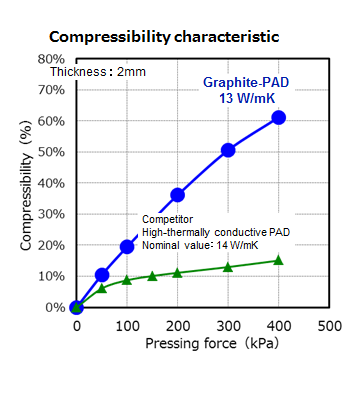 ・ The Graphite-PAD has superior compressibility