What can they do?
Achieve air conditioning suitable for the perceived temperature using the thermal sensation estimation method based on the calculation of heat loss.
Conduct a detailed measurement of the temperature distribution without contact and detects the presence of humans and objects using a super-resolution algorithm, enabling the development of more sophisticated systems.
Shorten customers' development period by offering optimum solutions to suit their needs.
What is the infrared array sensor "Grid-EYE"?
Sensor capable of detecting temperature distributions without contact and is widely used in appliances and industrial applications.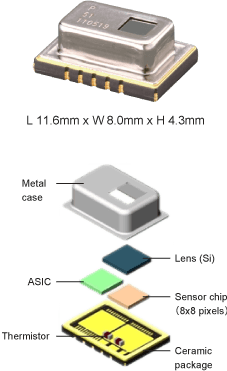 Area temperature distribution detected by capturing infrared rays at a resolution of 8×8 (64) pixels.
Capable of detecting the movement / presence of a target person (moving or standing-still detected).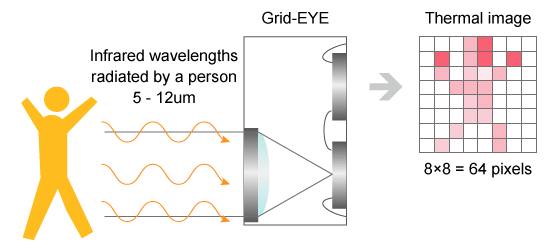 Mechanism for identifying thermal comfort
With the evolved Grid-EYE, from "human detection" and "temperature detection" to a phase
of estimating "human sensations" and "state of people or objects."
Evolution of hardware

MEMS sensor device technology

Evolution of software

Unique algorithm technologies

Super-resolution algorithm
Thermal sensation estimation method
Unique algorithm technologies

Super-resolution algorithm

Thermal sensation estimation method
Panasonic established a "non-contact" & "over the clothes" thermal sensation estimation method.

Resolution algorithm
Super resolution refers to a technology that approximates a degraded image to its pre-degradation state
by modeling the image degradation process and applying it in reverse.
In this system, the degradation model refers to the following processes:
(A) Blur occurs when the Grid-EYE lens collects light;
(B) Resolution degrades by sampling at a vertical resolution of 8 pixels; and
(C) Measurement noise.
The super resolution processing of this system performs the following with respect to this degradation model:
(1) Increases the resolution (processing mosaic) by tilting the Grid-EYE and measuring positions between pixels (sub pixel sampling); and
(2) Generates an image with clear outlines by reverse filtering the blur and noise (signal processing).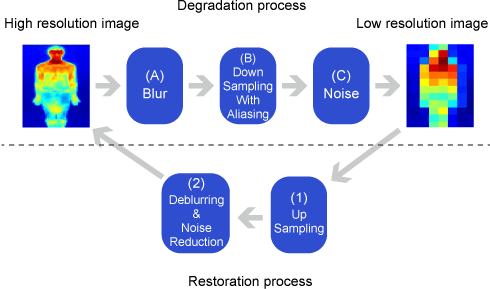 Thermal sensation estimation method
Development of a thermal sensation estimation method using the infrared array sensor Grid-EYE.
Previously, human thermal sensations have been estimated based on the measurement
of average skin temperature (contact sensor).
Panasonic has developed an algorithm for estimating thermal sensations "over the clothes without contact."
[Concept]
Results of collaborative experiments with Nara Women's University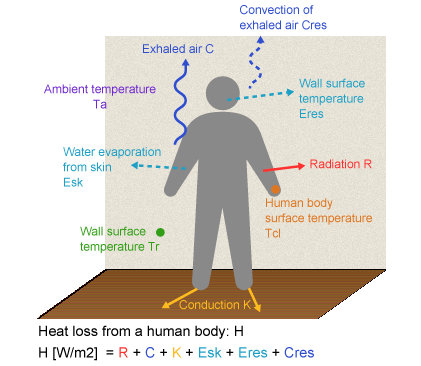 In the heat exchange model (figure on the right) of a person and the environment, R and C are the major variables of heat loss H when the heat radiation by water evaporation is constant.
R = hr × (Tcl – Tr) :Heat dissipation by radiation
C = hc × (Tcl - Ta) :Heat dissipation by convection
hr: Radiative heat transfer coefficient hc: Convective heat transfer coefficient
When the wall surface temperature and ambient temperature are equal,
R + C = (hr + hc) × (Tcl - Tr)

Non-contact and clothes-independent thermal sensation estimation becomes possible if an infrared array sensor can detect the surface temperature (Tcl) including of clothes and walls (Tr).
The conversion from heat loss (H) to thermal sensation uses the results of collaborative experiments with Nara Women's University.
The thermal sensation measurements of the Japanese population indicate different values for the same heat loss between the summer and winter (it is said to be because the human body changes its metabolic rate according to the season).
Consequently, thermal sensations for the summer and winter are determined by applying different calculation formulas to the same heat loss.
The accuracy of determined thermal sensations is further enhanced in accordance with the humidity and room temperature.

Calculation formula for thermal sensations (ts) in the winter

ts = a0 * H + b0

Calculation formula for thermal sensations (ts) in the summer
When the heat loss is less than 26.315,

ts = a1 * H + b1

When the heat loss is equal to or greater than 26.315,

ts = a2 * H + b2

Correction based on the humidity (t: room temperature, h: relative humidity, ts': corrected thermal sensation, ts: thermal sensation)

ts' = ts + (h0 * (t – t0) + h1) * h – h2 * (t – t1) – h3
Applicable fields
Widely applicable from appliances to automotive and industrial fields based on customers' needs.
• Sensing applications for identifying human thermal sensations.
• Sensing applications for conducting detailed temperature distribution measurements, detecting objects, etc.