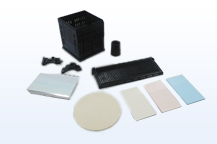 Metal-Substitute,Precision Molding Resin Grade
Superior precise molding ability is performed
Abrasion-resistant resin Grade
Abrasion-resistant ability is much improved by Pana-Tetra

Electrification prevention Resin Grade
Superior static electricity diffusion performance

Product features
Contact for Materials
Unparalleled efficient compound resin has been achieved by high level of
material compound technology.

(Characteristics)
[ Metal-Substitute, Precision Molding Grade ]


Superior precise molding ability is performed by the low shrinkage rate and high fluidity.


By anisotropy relief of molding, the plane degree and the truth disc degree are improved and the warp is prevented.
[ Sliding and Abrasion-resistant Resin Grade ]


Low friction coefficient was achieved by the superior surface smoothness.


Abrasion-resistant ability is much improved by compound of "Pana-Tetra".
[ Electrification prevention, Conductive Resin Grade ]


High level of stable electrification prevention and conductivity.


Superior static electricity diffusion performance.
[ Electromagnetic Radiation Shield Resin Grade ]


Excellent shield by adoption of special conductive filler.


Steady "mold processability and molded product's surface condition".

(Grade)
Pana-Tetra Compound Resin [ Grades & Features ]
Function
Grade
Base Resin
Features
Use example
Metal-Substitute,
Precision Molding
MD15S
PPS
High rigidity / Size stability / Heatproof
Optical pickup for CD
MD102
PPS
High rigidity / Low specific gravity /
Conductivity / Heatproof
Gear pump
MD401C
PPS
High rigidity / High Sliding /
Conductivity / Heatproof
Audio tape head holder
Sliding and Abrasion-resistant
MO10B
POM
High Sliding / Abrasion resistance
Precise gear
MN20K66
PA
High Sliding / Abrasion resistance
Precise gear
Electrification prevention, Conductive
MP20A
PP
Conductivity / Size stability
[Carbon compound materials]
Tray for IC
MB10A
ABS
Electrification prevention / Extrusion processing
[ Non-carbon materials]
Tray for liquid crystal
MB10AN
ABS
Electrification prevention / Extrusion processing
[Non-carbon materials]
Tray for liquid crystal
Electromagnetic Radiation Shield
EC-100
ABS
EMI Shield / Metal-Substitute
[Carbon fiber Compound]
Shielding Case
EC-400
ABS/PC
High Sliding / Metal-Substitute
[Carbon fiber Compound]
Shielding Case
(Typical Specifications)

Metal-substitute, Precision molding grade
-> PPS , LCP , PEEK


Electrification, Conductive resin grade
-> PP , PS , ABS , PBT , PPS


Sliding and abration-Resistant Resin Grade
-> POM , PA , ABS , PPS