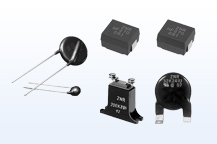 Large withstanding surge current capability in compact sizes.
Lineup from general electronic equipment to industrial use.
Wide range of varistor voltages.
Product features
Outlines
【ZNR HFseries】
With small size, contributing to mount space saving in power supply circuits in ECU
Conforming to load dump surge test of JASO A-1, ISO7637-2
Conforming to AEC Q-200
Conforming to ISO/TS16949
Achieving high reliability suitable for in-vehicle installation
High temperature load: 2000hours at125℃
Heat cycle: within the range of -40 to 125℃
Applicable to flow, reflow and hand soldering
Examples

Various usage in ECU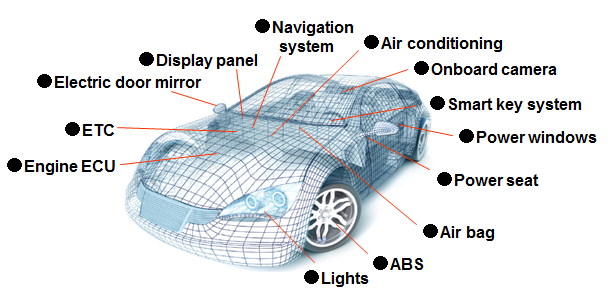 Control mechanism

・ Load dump surge is generated when the battery line is disconnected while the alternator is generating power.  →Bypass the surge current to the GND to protect ECU
Characteristics of products
Appearance /Structure

Molded with resin
Absorb large energy with small body

Basic characteristic

The characteristics:
same as Zener diode and having no polarity

Replacing TVS with Varistor

Contributing to the reduction in size and weight of ECU
Characteristics of products JASO A-1 test (P/N:ERZHF2M220D)

Characteristics of products ISO7637-2 test

■Test Pulse 5a (12V system)
Elemental technology
Increasing effective volume and surge tolerance realizes
miniaturization and weight reduction of components.